Great article, however, one just need to go in both stores to see what's really going on…
VIA – SEEKING ALPHA

Can PacSun Surf Back To Profitability In Its Competition With Zumiez?
April 5, 2012 | about: PSUN, includes: NKE, VFC, ZQK, ZUMZ
Action-sports themed youth retailer Zumiez (ZUMZ) reported same-store sales April 4 for the five-week period ended April 2. Net sales increased 23.5% to $50.9 million, and same-store sales increased 14.1% compared to the same period last year. Additional information available from the company's prerecorded sales message referred to in the report included quarter-to-date same-store sales that rose 14.1%, and sales were helped by an increase of Average Unit Retail, slightly offset by a decline in units per transaction.
Zumiez is one of a shrinking number of retailers that report monthly same-store sales. California-themed youth apparel retailer Pacific Sunwear (PSUN) stopped reporting monthly sales in the first quarter of 2009. Are increasing sales at Zumiez a sign it is stealing business from PacSun, or does the increase in AUR indicate that PacSun may also be improving?
Zumiez and PacSun both sell many of the same brands, in addition to private label brands. Popular brands sold at both stores include Nike (NKE) and its popular unit, Converse; DC Shoes, Quiksilver, and Roxy, all units of Quiksilver (ZQK); Billabong; and Vans, a unit of VF Corp (VFC). Zumiez's prerecorded sales call mentioned that men's footwear sales increased in March, which may be a good sign for some of these brands. It is also worth noting that PacSun's current CEO Gary Schoenfeld was the CEO of Vans prior to the company being taken over by VF Corp.
Zumiez trades at about 30 times trailing earnings and has a market capitalization of about $1.15 billion at the close of trading April 4. In contrast, PacSun closed April 4 with a market capitalization of about $116 million. The last fiscal year PacSun earned a profit from continuing operations was 2007, earning $40 million, according to the company's most recent 10-K (p.18). Zumiez was profitable for all of its last five fiscal years, according to its 10-K, earning over $37 million for the fiscal year ended Jan. 28, 2012.
It's worth noting that PacSun's 2007 profit was higher than any of Zumiez's last five fiscal years. Also, PacSun was the 12th best performing stock for the decade of 1996-2005, according to the Motley Fool, returning 3,055% during that time period.
Based on the recent losses, it would be tempting to conclude that PacSun is "out." However, teenagers and college students can be fickle. Is it possible that PacSun could come back?
Golden Gate Capital appears willing to take that bet, having funded a $60 million secured loan to PacSun, and being issued the right to purchase up to 19.9% of PacSun's stock on a non-diluted basis in a deal announced Dec. 7, 2011. PacSun also appointed two members of Golden Gate to PacSun's board. PacSun announced that on March 20, 2012, the board appointed Panayotis Constantinou. According to the company, "Mr. Constantinou has control over the investment decisions made by GI2 Ltd, an entity that beneficially owns approximately 30% of the common stock of the company."
But never mind what the big investors think; what do the potential customers think? In an article I wrote recently, I noted how social networks like Facebook (FB) and Internet sites like Alexa can give the public potential clues as to the popularity of a retailer. Information regarding PacSun's estimated web traffic according to Alexa is available here, and Zumiez is available here. Since writing that article, as companies have switched to Facebook's new Timeline, more information is available regarding the demographics of "likers" than on pre-timeline pages. Zumiez's Facebook "like" statistics are available here. PacSun's Facebook stats are here.
The table below compares some information available for the two companies. (Both companies' financial information are from their most recent 10-Ks.) Zumiez's store count is from its monthly sales report. Alexa and Facebook numbers are from the information available on those sites at the time of writing this article…
http://seekingalpha.com/article/481231-can-pacsun-surf-back-to-profitability-in-its-competition-with-zumiez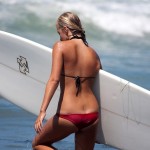 Become A Sponsor!
If you have a product or service that is a good fit for our surf community, we have opportunities for you to sponsor this blog!
Download our media kit now!