VIA – EASY READER NEWS
For the month of April, a few local board builders and skate shops showcase some of their April offerings. Be smart, buy local!
Brog Surfboards
The Mid Potato
The Mid Potato takes design elements from a mini-simmons and adds a tighter turning radius with its unique diamond swallow tail. The abrupt outline adds for re-directional turns and the ability to break trim and shatter the stereotype of the template's flow nature. The overall spoon shape allows easy wave entry, while SNAP, CRACKLE, POP the quad fin set-up adds bursts of speed like a sugary cereal for a five-year-old. NO SPUD HERE, as all boards are completely hand shaped by Mark Brog and glassed in the Soul Performance factory, with love and attention! Over twenty years of shaping and surfing experience.
Listed Board dimensions: 6'4"x22 5/8"x 2 5/8"
Call for your custom surfboard appointment 310-370-1428
Visit the Shop: Soul Performance 2215 Artesia Boulevard, Redondo Beach, CA
soulperformance.com
Surfboards by Davenport
California Classic
Extra long noserides, super smooth turns and miles of "grinnin' and trimmin." Perfect for a point set up, classic or a small day out front. Ritalin for the hyperactive spazz. Buy one and leave your gyrations in the dust and make the transition from frantic aggression to smooth and casual, free and easy. Endless trim for an Endless summer with the functioning 50/50 rails, lowered nose rocker, flat middle with tail rocker accelerating from the hips rearward. Template: Slightly pull in nose, ears of the template are at the riders heels for dropping & climbing while on the nose. Parallel forward 3rd of board coming to subtle hips then blending gracefully out to a trim pin.
comes stock: 3 stringer all wood or foam plus wood. Tint Only!
Fins: 9'4-9'7 Sparky, 9'8-10'6 Zeke or Iggy Davenport Surfoards: [email protected] adamdavenport.blogspot.com (310) 462-8569
South Bay Skates
40TH Anniversary THE FIRST CRUZER
ORIGINALLY RELEASED 1973
Skate City 225 trucks, 1970's truck design with modern materials
57mm 92A Santa Cruz "Roller Sport" wheel inspired by original formula, transparent orange color and shape
Two 1" black griptape full length strips
Chrome steel bearings
Pultruded epoxy fiberglass flat deck
Laser etched 40th Anniversary logo
No kick and a stiff flex
Hand screen printed graphics
And pick up a great pair of shoes to ride your Cruzer Inspired by old-school colorblocking, the Adidas Action Sports Seeley shoes have a smooth all-suede upper build and synthetic leather 3-Stripes. Mention Drop Zone and get 10% OFF of 1 pair of Adidas, 15% OFF of 2 pair and 20% OFF of 3 pair.
SouthBay Skates
3594 W. Redondo Beach Blvd.
Torrance, CA90503
310-327-9986
southbayskates.com

Mission Surfboards
777 JACKPOT
The Jackpot is designed to be an all around magic board able to perform in any conditions from 2ft to 2ft overhead. Beach break or point break The Jackpot allows you to travel light with one great all around board.
Deep single concave with a solid V tail bottom design. Performance rails add stability to turns. Low entry rocker with a kick out the tail. The Jackpot is recommend for surfers taking their surfing to the expert level.
~RESPECT
Gilad Lewandovski
FREEDOM AOP, INC.
310.770.4410
freeedom.org
Spyder Surfboards
The Outlaw
The Outlaw is designed to put you in places you don't belong. Small enough to get you into the "power pocket" of the wave but with enough volume to get you out of trouble and have you flying down the line to set up that next big turn. It's a great groveler board for small waves but will have you ripping in medium punchy stuff too.
Ability = Intermediate / Pro
Conditions = Sloppy Small to Head High / Slightly Overhead and Good
Recommended Size Ratio = 2"-4" Shorter than standard shortboard
Spyder Surfboards
2461 Pacific Coast Highway Hermosa Beach, Ca (310) 374-8276 &
Spyder 2 65 Pier Avenue Hermosa Beach, CA (310) 374-2494
spydersurf.com
For the original post go here:
http://www.easyreadernews.com/68758/surfboard-review-april/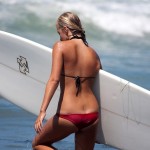 Become A Sponsor!
If you have a product or service that is a good fit for our surf community, we have opportunities for you to sponsor this blog!
Download our media kit now!