VIA –  THE BORDER MAIL
http://youtu.be/GeAgRWMVHiQ
By Jillian McHugh
April 24, 2013, 4 a.m.
Thousands of people have bought into the debate about the treatment of sharks in WA, sparked by an angry Facebook post that attracted more than 23,000 "Likes".
The post on Seven News Perth's Facebook page criticised their "shark terror" report about men who encountered a shark while fishing from their boat.
"These "poor fishermen" as you made them out to be, actually had meat on a rope and were drawing the shark into the boat Taunting the shark," Matthew Henderson, who's been diving for three years, posted.
"You claim the shark became aggressive! To right! and so it should!!!! i would to [sic] if some idiot chucked a lump on steak in front of me and kept pulling it away when I got close.
"It's stories like these that give sharks their undeserved attention. If these idiots want to taunt a shark then cry when it comes up an bangs the boat then don't support it."
See Mr Henderson's full post here.
It has since been shared more almost 1,500 times and has attracted as many comments, the overwhelming majority of which were made in agreement with the man.
One user said: "If someone was just wandering around the savannah and got attacked and eaten by a lion, would people be calling the lion a monster and wanting to have it killed? No, they'd understand that the person stupidly shouldn't have been there, and should have thought about the risks."
Another joked: "In breaking news… Sharks spotted in their own territory!"
Mr Henderson, a safety manager, said the support he'd received for criticising the story had "restored his faith in humanity".
"I just posted it out of my own disgust," he said.
"98 per cent have said 'Well said, I agree', so it makes you wonder why companies are making these reports… You see a lot of sea stories all the time of people doing silly things with sharks.
"The news sensationalising it and almost encouraging it by filming it and putting it on TV for their 15 minutes of fame is what disgusts me."
Mr Henderson said it was the fishermen, not the shark, who were behaving in a dangerous manner.
"The video they showed was a lump of meat attached to the rope they were chucking at the shark and drawing it to the boat," he said.
"That's very dangerous.
"Channel Seven are supporting that behaviour; people are going to emulate that behaviour and it won't be long til someone gets injured."
Mr Henderson said since taking up diving three years ago, he had come to realise that sharks weren't the monsters of the sea they were made out to be.
"It's only since I've been in the water and seen the sharks and seen they're not as dangerous as everyone thinks they are that I've developed a passion for them," he said.
"I've purposely put myself in a position to see sharks and I've also seen them out fishing.
"I use a shark shield, a diver's one, that's proven to be successful.
"When spear fishing, they came within three metres, but the shark hits the three metre [shark shield] boundary and then swims away.
"They're not like the big bully that every makes them out to be, they're curious, they're having a look."
The Facebook post was made on April 16, but is still gathering comments almost a week later.
"It lay dormant for a couple of days and then just took off," he said.
"The Shark Alliance page has sent me emails saying thanks very much, but I just did it because I was so upset that the news crews report this stuff; it's not the firsts time they've done vicious sharks stories.
"At the end of their day it's their habitat. I know the dangers, I put in necessary precautions to minimise the risk."
Another man, pictured in photos holding a large fish and bodyboarding in another, posted a similar comment on the same day as Mr Henderson.
"Tonights shark story was a joke," he wrote.
"Those men were not 'terrorised', they encouraged that shark. It was clearly shown in that footage by them tossing out baits tied to ropes and teasing it to the boat. Complete sensationalist reporting!"
Channel Seven said they were thankful for the feedback.
"The team at Seven News Perth thanks everyone taking the time to post their opinions and offer feedback via our Facebook page," Channel Seven News director Howard Gretton said.
"We take all feedback, positive & negative, on board."
Mr Henderson said he hoped the attention given to his Facebook post would encourage news outlets to rethink the way they reported on sharks.
"The main thing I would love to see come from this is 'accurate' reporting of sharks and not sensationalise them," he said.
"I would also like people to educate themselves about sharks.
"We can all coexist if we respect the boundaries of an apex predator.
"We all know what is right and what is wrong.
"Reports like the one that is getting all of the attention was wrong in my opinion; 25,000 other people tend to agree."
For the original post and more photos go here:
http://www.bordermail.com.au/story/1453460/facebook-feeding-frenzy-over-pathetic-shark-story/?cs=12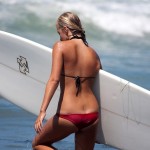 Become A Sponsor!
If you have a product or service that is a good fit for our surf community, we have opportunities for you to sponsor this blog!
Download our media kit now!