Tragic, this happened to my buddy Jeff (Govie) Plucy as well right in the prime of life…
VIA – NBC LOS ANGELES

Surfer Died of Heart Attack off San Onofre: Coroner
By Toni Guinyard and Scott Weber
| Wednesday, Sep 7, 2011 | Updated 4:30 PM PDT
A Torrance resident who was found unresponsive in the water off San Onofre State Beach died of a heart attack, the Orange County Coroner's office confirmed Wednesday.
Russ Yamada, 42, was found near his surfboard about 4:35 p.m. Sunday, according to a coroner's statement.
Friends said they were enjoying a weekend trip to surf with Yamada. Russ wasn't supposed to meet them until Sunday, but he was able to leave work early Saturday and arrived at about 3:30 p.m.
High waves up to 8 feet high pounded the beaches that day.
Russ was an experienced surfer and strong swimmer, his friends said. But others in the group were not, so they decided to go to the "Old Man's" surfing spot at San Onofre State Beach because the waves there are "friendlier."
Russ' friend, Garrett Yanai, was toweling off in the parking lot when he noticed Russ's surfboard near the lifeguard station.
"I saw his board up at the lifeguard tower and saw some sort of commotion. They told me they had some bad news for me. My friend Russ had been knocked unconscious and found out in the water," Yanai said.
Friends said this is not just a tragic surf related story; it's about the loss of a man who impacted so many lives.
For the full story go here:
http://www.nbclosangeles.com/news/local/Surfer-Died-of-Heart-Attack-off-San-Onofre-Coroner-129413233.html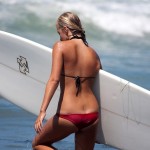 Become A Sponsor!
If you have a product or service that is a good fit for our surf community, we have opportunities for you to sponsor this blog!
Download our media kit now!