This guy is everything I hate about humans, he's the scum of the earth, scourge of humanity…he needs a serious beat down.
VIA – LOS ANGELES TIMES


Surfer files product liability lawsuit against Channel Islands
August 26, 2011 | 3:44 am
Surfboard manufacturers have a number of concerns — heavy competition, expensive shipping and employees who occasionally like to slip out early when there's a good break.
Product-liability lawsuits typically aren't one of their worries.
That's what makes a lawsuit that recreational surfer Tom Gregg filed against Channel Islands Surfboards a little unusual.
Gregg contends that a fin on his Channel Islands board cut a "deep gash" on his right leg when he wiped out off the coast of France in 2009. He said the fin severed muscles in his leg and caused injuries so severe that he will never regain full muscle strength in the injured leg.
"The surfboard, fins and their component parts were unsafe for their intended use," Gregg said in the lawsuit, filed Wednesday in Los Angeles County Superior Court.
Scott Anderson, general manager of Carpinteria-based Channel Islands, said it's the first product-liability lawsuit filed against the company that he's heard about. "I've been here 20 years and I haven't seen one," he said.
Anderson declined further comment.
Gregg's attorney, Jeffrey Karpel, said the fins are so sharp some surfers cover them with protective sleeves. Gregg was not aware of that before the injury, Karpel said.
For the full article go here:
http://latimesblogs.latimes.com/money_co/2011/08/surfer-tells-board-manufacturer-pay-up-brah.html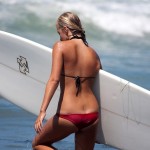 Become A Sponsor!
If you have a product or service that is a good fit for our surf community, we have opportunities for you to sponsor this blog!
Download our media kit now!