What an inspiration!  Happy birthday  Mildred!
VIA – KHON
Surfing is a passion that is tough to give up. That is especially true for one woman who celebrated her 92nd birthday on Monday.
Mildred Ball-Wilson is a fixture here in Waikiki at a surfing spot called "Canoes." She's been going there every day for the past 62 years.
"It's fun riding the waves. I've always enjoyed it. I don't think I missed a day. I always came at least once and then twice if I had time," Mildred said.
So on her 92nd birthday, Mildred was not about to miss out catching a few more waves. You see, this is also a retirement party of sorts. She might still come out here every now and then, but not quite as regular as she has in the past six decades.
Mildred moved to Hawaii right after World War II to teach children who are hearing impaired. And within months, she fell in love with surfing.
"It's even better than riding my bike I used to ride my bike in fact I went on bicycle trips all over, up into Canada in the East Coast and the West Coast," Mildred said.
Since then, she has come out to this surf spot every day at 7 a.m.
Her family estimates that she has ridden more than 600,000 waves over the years. Everyone who has spent time on this beach knows all about Mildred.
"It's thrilling to ride the waves a lot of fun and I like the association with the surfers. It's refreshing and it's a fun way to have fun," Mildred said.
Friends gathered to…
For the full article go here: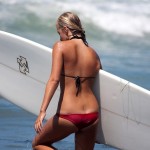 Become A Sponsor!
If you have a product or service that is a good fit for our surf community, we have opportunities for you to sponsor this blog!
Download our media kit now!