VIA – VC STAR
Tommy Curran and others to play at concert fundraiser for friend
Surfer-musician Timmy Curran and others will perform to help a friend with cancer
By Bill Locey
Posted October 6, 2011 at 7:08 p.m.
Contributed photo
Surfer-musician Timmy Curran, front, will headline a concert on Saturday at Libbey Bowl in Ojai to raise money for the Thom Olson Hope & Healing Fund. Olson, a friend of Curran's and a Ventura County native, has a rare form of cancer and needs help paying for treatment. Curran's band, in back from left, Jesse Carmichael, Jesse Taylor and Andy Smith, will be at a wedding this weekend, so Curran said he's trying to gather a group of friends to play with him on Saturday.

Steve Olson / Contributed photo
Oxnard native Thom Olson, left, who now lives in San Clemente, has neuroendocrine cancer, a rare form of the disease. The Hope & Healing Benefit Concert in Ojai on Saturday will help raise money for treatment not covered by insurance. He's pictured here with his daughter Bray, 12. Olson and his wife, Katy, also have a son, Jonah, 9.
Here we go again: Another sad story about a great guy and a bunch of big-hearted musicians playing for the right reasons.
Thom Olson, 46, a surfer and contractor who lives in San Clemente but grew up on the beach in Oxnard — where his parents ran Mrs. Olson's Coffee Hut — has neuroendocrine cancer of the pancreas and liver, a rare form of the disease.
Olson is getting treatment for the condition here in the U.S., but according to his sister, Denise Olson-Drury of Ventura, "in the United States, this type of cancer can be managed, but not eradicated." Over in Europe, however, treatment is available that might provide a cure but is not approved by the FDA, she said, which means insurance will not pay for it.
"He's seeking a cure," Olson-Drury said, so friends and family are trying to raise money for this alternative treatment.
Olson is good friends with surfer-musician Timmy Curran and others associated with the local surf and music scene, and they decided to help out by playing at a fundraising gig for him.
The Hope & Healing Benefit Concert will be held Saturday at Libbey Bowl in Ojai.
The Musicians United to Battle Cancer are Ojai Valley locals Kyle Hunt and B. Willing James, usually fronting their bands King Gypsy and Shades of Day, respectively, and the Brotheryn Studio All-Stars. From Ventura, there's crazy cowpunk band Jackass, not to mention the lazy and legendary Raging Arb & the Redheads (making their 2011 debut). And from Oxnard, there's party rock from Ska Daddyz, reggae from Dirty Rice and the Strand Band.
Curran, the famous finhead who, when out of the water, is a mellow rocking surfer dude, will headline the show. He was so good as a pro surfer that he was able to retire, and while he still surfs at the ripe old age of 34, Curran is best known these days as a musician. He has an EP and three albums, including his latest, "Options," which includes its own affordable option — it's a free download at his website, timmycurran.net. A fixture on the pro surfing tour for many years, the Ventura finhead discussed the latest during a recent phoner.
Hey, Tim, so what's new in your world?
In the music business? I just put out another free album on May 31 and we're looking to do our first little California run beginning at the end of October.
What's your take on "Options" and how does it fit in with what came before? And are you a rich rock star yet?
Oh, no, but I'm having fun. We just tried to step outside the box a little bit — a little bit more indie rock-style.
Do you play music more or surf more?
I go through phases where I'll work on an album and then I'm probably playing more music and writing than actually surfing, and right now, I've been surfing more, but right before we go out, I'll start practicing more.
Tell me about this gig in Ojai — you're going to do an acoustic set?
Yeah, it kinda started that way. I don't think I'm gonna have any electric players with me but I'm just sort of gathering all my friends because my band is out. My bass player is getting married the next day so the entire band's involved in the wedding, so I'm piecing together another band with all my friends.
Couldn't get any better than that. I grabbed one of your albums this morning for the drive to work, "Word of Mouth" from 2007 — what a great album, man.
Thank you so much.
So, mellow surfer dude stuff — that's you?
Uh, yeah, yeah, I guess.
Your music is obviously popular in SoCal — much like reggae is — but how does it play somewhere where the surf isn't so hot, like Kansas?
Never been in Kansas — we've been in Texas and we played with a whole mess of country artists and it seemed to mesh well with country, so that was fun. These days, especially with Pandora (music site) and all the other different websites, I feel that people's playlists go from rap to country, just all over the map. So I think music is starting to blend when it normally wouldn't before.
How would you compare and contrast two different activities — surfing and music?
I think the similarities involve ways of expressing yourself. You wanna draw lines on the wave and ride in a style, and obviously, writing in general is just about personal experiences or stuff you see around you, so that tends to make my stuff pretty different.
You were a surfer dude for a long time. What inspired you to expand your horizons to also become the music dude?
I dunno, but even to this day, music is just for fun, a hobby. My grandma plays and sings, and my uncle has an independent album out, so there were a lot of hootenannies growing up and it's something I've been a part of ever since I can remember. Writing and playing music is just therapy and a way to get stuff out. It's just fun. I never had any expectations for it, you know?
Did you have an "Aha!" moment when you were playing and realized, "Hey, man, I can do this"?
Yeah, I think it was after five years of writing songs and my brothers were like, "Oh yeah, I like this song — maybe you can have somebody else sing it?" I was in Japan and came home and wrote a song, and my brothers and family actually liked it, so after five years of trying and 50 songs, one clicked. From then on, I've just been playing and putting out albums, EPs and stuff.
What was the one song that everybody liked?
"If I Only Had a Way."
OK, so how many Tim Curran songs are there now?
There is — gosh — recorded? There's like 25, and written, maybe 50 or 60.
What's the biggest wave you've ever caught?
Oh, I dunno — 20 feet or something.
Wow.
Yeah, I was scared.
Did you ever have a shark moment?
One in Africa and one in Tavarua in Fiji. I saw the one in Fiji — I don't know how big it was. And the one in Africa, I never saw, but all the people on the pier at once looked at me and shouted, "Go in!" So it probably was not a small shark.
We talked about your biggest wave; how about your strangest gig?
Wow, there's so many different scenarios, but we played this one town in the middle of nowhere in Australia with all these tumbleweeds and I think two people showed up — and they were sitting a mile away, so that was very, very odd. It was like something out of "Napoleon Dynamite," pretty awesome.
Listening to the Surf Punks' first album, "My Beach," totally radicalized me about the beach, my hometown, tourists, pay parking at our own beach and all that. What's your take on the notion of localism when it comes to surfing?
I've always been pretty quiet. It's definitely present at some local beaches. I've never been one to be outspoken about it. I just keep my mouth shut and surf and try to share waves.
What was your best day at the beach and your best day on stage?
For the full story go here:
http://www.vcstar.com/news/2011/oct/06/tommy-curran-and-others-to-play-at-concert-for/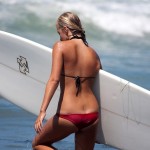 Become A Sponsor!
If you have a product or service that is a good fit for our surf community, we have opportunities for you to sponsor this blog!
Download our media kit now!