Thanks to @RAWELEMENTSUSA for the heads up on this story…:
"Uploaded by HRPmedia on Nov 7, 2011
Nazaré and Garrett McNamara made surf history with the largest waves ever ridden in Portugal. Garrett's wave has been entered into the Billabong XXL Global Big Wave Awards 2012. This is considered the Oscars of big wave riding and this is the first time that a wave from Portugal has been entered into the competition.
"This beach is so challenging. You really need to make sure you are in the right spot. I did my best to position myself and then just went for it. I had no idea how big the wave was, I was just so excited to finally paddle into a wave at Praia do Norte", said Garrett.
This is the second part of a three year project started by Nazaré City Hall and ZON to promote the region as a destination for surfing by show-casing the unique and some would say terrifying, aspects of the Nazaré Canyon. The canyon extends 210 kilometres from the coast and drops to a depth of more than 4,300 metres. When the ocean swells, waves and wind all combine the result is truly awesome.
We were filming from the cliff top so it was difficult to gauge the height of the waves but well over 20 metres would be my guess. I shot this on on Nikon D7000 with a 400 mm zoom lens. Holding focus over such a long distance and on the end of the zoom was a challenge but between us me and the Nikon did the job. Nazare is about 30 mins from Praia Del Rey. Cheers, Rod Smith
PS don't forget to visit our surfing page at www.holiday-rental-portugal.com"
VIA – ESPN
Surfer Rides 90 Foot Wave – Garrett McNamara breaks the world record for the largest wave ever surfed
For the ESPN post go here:
http://search.espn.go.com/garrett-mcnamara/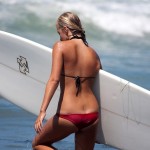 Become A Sponsor!
If you have a product or service that is a good fit for our surf community, we have opportunities for you to sponsor this blog!
Download our media kit now!