VIA – OCEAN DRIVE

Surfer to Surfer: Kelly Slater Interviews Marisa Miller
By Kelly Slater
Photography by Brian Bowen Smith
Embroidered sheath dress, Oscar de la Renta ($5,490). Neiman Marcus, 390 San Lorenzo Ave., Coral Gables, 786-999-1000. Bubble hinge bangles in red sapphire ($1,700), pavé oval flower Deco ring ($960), hinged cuff with multicolor pavé sapphires ($4,700), M.C.L by Matthew Campbell Laurenza. Neiman Marcus, SEE ABOVE. Resin tabletop cuff in gold with teal glitter-washed water snake, Kara by Kara Ross ($240). Neiman Marcus, SEE ABOVE. Etna tourmaline ring with diamonds and tsavorite garnets set in 18k white gold (price on request), Krafla earrings with round and baguette-cut diamonds, aquamarines, and 18k white gold (price on request), Van Cleef & Arpels. Bal Harbour Shops, 9700 Collins Ave., 305-866-0899. 18k gold Paraiba tourmaline and gray diamond ring, Vram for Gray Gallery ($32,550). Patent peep-toe pumps, Giuseppe Zanotti (price on request). Bal Harbour Shops, 305-868-0133
Marisa Miller and Kelly Slater are beautiful bookends to a certain iconic all-American ideal. Slater, the laconic and breezily talented surfer with chiseled abs, is from the Sunshine State, and Miller, the longhaired, sports-loving tomboy, is from California. They happen to be friends, bonded by a love of surfing and the ocean. In fact, the pair met at a surfing competition in Fiji that Slater sponsored, in which Miller took second place. "She was riding a short board. I was very impressed by that," says Slater.
Both, though, are hardly haplessly lucky. Slater is to pro surfing what Michael Jordan is to basketball, and successfully turned his household name status into a platform for environmental stewardship. Miller, meanwhile, has transitioned from Victoria's Secret angel and Sports Illustrated cover star to entrepreneur and philanthropist. On a recent afternoon, they connected to catch up on their adventures.
KELLY SLATER: I know you're athletic—I've seen you surf. You've said you're a tomboy, yet you're also an icon of feminine beauty. How did that happen?
MARISA MILLER: I have two younger sisters, and I'm really close to my dad, so I would kind of be the pseudo-son and throw the football around with him and watch sports. We had horses, and we didn't have cable TV, so our life was completely outside. I took wood shop. I didn't know what being pretty was. My sophomore year in high school, I played volleyball, and they made you wear those ridiculous uniforms that look like a huge bikini brief. It was super-embarrassing. There was this rumor going around that I had a "good body," and I didn't even know what that meant! My parents were just like, "Oh, it just means you're really healthy and you're strong!"
KS: So you're a straight-up hippie then?
MM: My parents definitely were hippies. They lived out of their truck the first six months they were married, and all they did was surf. So I definitely had those tendencies, because that was just how I was raised.
KS: Did you ever think you'd end up leading such a glamorous lifestyle?
MM: I would watch my mom get ready and we would play dress-up, but I was never really a girly-girl. So when I started modeling, it was kind of cool—it gave me a reason to explore that side of myself.
For the full article go here:
http://oceandrive.com/personalities/articles/surfer-to-surfer-kelly-slater-interviews-marisa-miller?page=1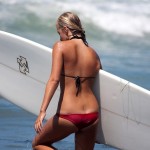 Become A Sponsor!
If you have a product or service that is a good fit for our surf community, we have opportunities for you to sponsor this blog!
Download our media kit now!