VIA – ORLANDO SENTINEL
What it's like to have a shark jump on you
Jacob Langston Orlando Sentinel
1:31 p.m. EST, December 1, 2011
In June I was recording video for a story on surfing when I happened to get a clip of a spinner shark jumping over a surfer at New Smyrna Beach. The video immediately went viral getting millions of views online and on television. I received emails and interview requests from local TV stations, FOX News, Good Morning America, National Geographic and even a public radio station from Germany. It was the main video on Yahoo.com's website for a number of days.
A month or two later I received an email from a woman who said that her son was the one in the video. I was able to meet up with Andy Dabrowski and do a follow-up interview on what he saw that day in the waters of New Smyrna Beach.
"I notice out of the right side, like a grey with some watery sparkle come flying out of the water," said Dabrowski "It just lands on the back of my legs."
He said sharks and other marine life are pretty common in New Smyrna Beach but it won't keep him out of the water. "It's part of the territory," said Dabrowksi…
For the full story and update video go here:
http://www.orlandosentinel.com/multimedia/os-jumping-shark-video-followup-20111201,0,2015683.story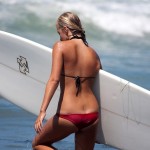 Become A Sponsor!
If you have a product or service that is a good fit for our surf community, we have opportunities for you to sponsor this blog!
Download our media kit now!