VIA – THE CHINA POST
Updated Monday, March 26, 2012 5:41 pm TWN, By Amy Coopes, AFP
Surfers, sharks struggle to share the ocean in Australia
SYDNEY–Rolling from his surfboard, blood gushing from the wound where a shark had just ripped a big chunk of flesh from his thigh, Australian Glen Folkard had just one thought: "I'm alive."
Folkard, 44, was out beyond the breakers at Redhead Beach, north of Sydney, when a three-meter (9.8 feet) bull shark lunged for his board, knocking him to the water and dragging him beneath the surface locked in its powerful jaws.
"It was everything you'd think it would be, just sheer terror," he told AFP, five weeks after the savage attack.
"He's hit me from underneath, he's grabbed me, he's turned me, took me under and then let go (because) I think he had fiberglass in his mouth … and that was my chance."
Scrambling to shore, the predator's dark shadow trailing his blood slick all the way, all Folkard could do was ride a wave in and collapse on the sand with a "big mass of yuck" where his thigh once was, but with his life intact.
"I just remember rolling off the surfboard onto my back, looking at the sky and just loving life instantly," he said, despite having just lost two kilograms (4.4 pounds) of his leg to the ocean predator.
"I was laying on my back looking just at the blue sky, going 'I'm alive, I made it' because it was all but over. He was meters away from having a second go."
There were three fatal shark attacks on Australia's west coast in the months preceding Folkard's lucky escape, an unusually high number that prompted the local government to vow a crackdown on the marine predators.
And as recently as this week, a surfer on Australia's Gold Coast narrowly escaped death at the jaws of a bull shark, and like Folkard managed to scramble to shore in time.
But experts cautioned against knee-jerk reactions, stressing that the average number of attacks in Australia — about 15 a year, with at least one being fatal — increased in line with population growth and the popularity of water sports.
Sydney's Taronga Zoo shark specialist John West, who has catalogued every attack since the 1980s for the Australian Shark Attack File, said the jump in incidents from an average 6.5 in 1990-2000 said more about humans than sharks…
For the full post go here:
http://www.chinapost.com.tw/art/lifestyle/2012/03/26/335775/Surfers-sharks.htm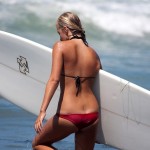 Become A Sponsor!
If you have a product or service that is a good fit for our surf community, we have opportunities for you to sponsor this blog!
Download our media kit now!