VIA – YAHOO
Vans Pier Classic Starts March 28, 2012 in Huntington Beach, California
By Killeen Gonzalez, Yahoo! Contributor Network 
On March 28, 2012 surfers and fans alike will converge on the picturesque shores of Huntington Beach, California, for the start of the Vans Pier Classic. This year's event will be presented by Jack's Surfboards and Glaceau vitaminwater. Here's a bit more information about what's on tap:
Surf Event Basics
The event is scheduled to take place at Huntington Beach March 28 through April 1, 2012. It is an Association of Surfing Professionals' (ASP) 4-Star event and it will be broadcast live on the Vans Pier Classic website. The competition is expected to get underway on March 28 at 8 a.m., weather permitting. The quarterfinals are anticipated to begin at 8 a.m. on April 1 and a 2 p.m. awards ceremony is planned that same day. Up for grabs are points and a stellar $115,000 prize purse.
Surfers Expected to Compete
While scanning the lineup of surfers anticipated to compete in the event quite a few names caught my eye. One surfer I'll be watching out for is Argentinean Lucas Santamaria. He is currently ranked 2nd in the Argentinean Surfing Association's Open Division with 1,460 points. He did incredibly well during the opening of the 2012 Billabong Pro Miramar on March 23 and I suspect that his momentum will continue into the Vans Pier Classic. I just hope that he doesn't end up suffering from too much jet lag. Right now Santamaria is tentatively listed to compete at Huntington Beach against Americans Jason Harris, Matt Myers and Dean Randazzo.
Another one I'll be watching closely is Japan's Kaito Ohashi. His performance at the Billabong World Junior Champions in January 2012 was more than memorable. I was in awe of his aerials. While there, he unleashed an epic backside fins-free waft that in my opinion was mind-numbing. Even though he didn't win the event, I still think that he bears watching this go round. He's expected to face off against Ethan Egiguren and Hunter Lysaught.
Upcoming Surf Events…
For the full article go here:
http://sports.yahoo.com/top/news?slug=ycn-11158178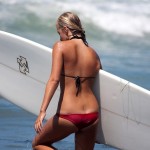 Become A Sponsor!
If you have a product or service that is a good fit for our surf community, we have opportunities for you to sponsor this blog!
Download our media kit now!