VIA – OC REGISTER


Published: Aug. 12, 2011 Updated: 5:04 p.m.

2011-12 season hits the surf
Surfing America and NSSA will open their seasons in coming weeks, while WSA just opened. O.C. surfers took first place in 14 of the 24 divisions at the WSA contest.
By FRED SWEGLES / THE ORANGE COUNTY REGISTER
The 2011-12 surf season is under way with local surfers Kulia Doherty and Rachel Tilly killing it in the Western Surfing Association's first of 10 season events. Meanwhile the NSSA and Surfing America Prime are set to open their seasons toward the end of the month.
Doherty, of San Clemente, and Tilly, of Capistrano Beach, won two divisions each in the WSA contest held at San Onofre Trail 6.
Fourteen winners out of 24 divisions at the contest represented Orange County. The other O.C. winners included Taj Lindblad, Jeremy Jennings, Eland Hansler, Wes Noble, Cole Houshmand, Blake Davis, Griffin Colapinto, Jacob Atwood, Dylan Cox and Emmy Lombard. Look for complete results at surfwsa.org.
The next WSA contest is Oct. 1-2 at Ventura, while Surfing America Prime opens its season Aug. 27-28 at Del Mar Jetties, Camp Pendleton. The National Scholastic Surfing Association…
For the full story go here:
http://www.ocregister.com/news/season-311923-surfing-san.html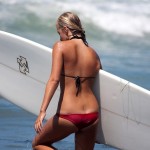 Become A Sponsor!
If you have a product or service that is a good fit for our surf community, we have opportunities for you to sponsor this blog!
Download our media kit now!