Surfing Dog Parade Float – DogChannel.com
"iew more dog videos at http://www.DogChannel.com/Videos
Ernie Slone, the Editor of Dog Fancy magazine and DogChannel.com, took video footage of dogs surfing during a practice run for the upcoming beach-themed float, sponsored by Dick Van Patten's Natural Balance Pet Foods, that will appear in the Jan 2, 2012 Rose Parade in Pasadena, California. The float will feature a specially designed wave machine generating surf every minute.
Check out the details of Ernie's visit and exclusive photos on his latest blog entry http://www.DogChannel.com/SurfingDogFloat"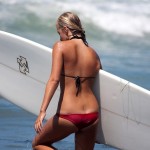 Become A Sponsor!
If you have a product or service that is a good fit for our surf community, we have opportunities for you to sponsor this blog!
Download our media kit now!