via – Marblehead patch
Surfing in the Snow (VIDEO)
The waves off of Devereux Beach were crowded with surfers Thursday afternoon as a late winter snowstorm made its way through Marblehead.
On a day when many Marblehead residents were reluctant to step out the front door, a handful of area surfers made their way to Devereux Beach to take advantage of the high waves generated by a late-winter snowstorm.
Although Thursday's system didn't produce the 3 to 6 inches of snow that some weather forecasters expected, it created perfect weather conditions for locals looking to take a ride on the waves.
"It's pretty tough to get up on the board today because it's so windy, but I found a couple of good waves out there," one surfer said as he dried off near his car in the Devereux Beach parking lot.
The water temperature, he said, was "not so bad once you get out there" thanks to his wetsuit.
A steady stream of vehicles pulled into the beach's parking lot and many residents who stopped by to get a look at the waves ended up staying to watch the surfers.
"These guys are nuts," Chris Russell, of Lynn, said as he looked out from underneath the comfort of the beach's pavillion. "I almost didn't want to get out of my car."
The surfing wasn't restricted to…
MORE NOW!: http://marblehead.patch.com/articles/video-surfing-in-the-snow#video-9230257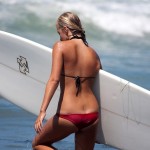 Become A Sponsor!
If you have a product or service that is a good fit for our surf community, we have opportunities for you to sponsor this blog!
Download our media kit now!