OT Surf – Swimwear that stays put! from Ordinary Traveler on Vimeo.
Press Releases
OT Surf Announces Sports Swimwear That Stays Put! Made Locally, Made Responsibly
Swimwear company designs functional bikinis manufactured in the USA with high-quality materials.
2 Mar 2012 WDM Group PR Network
SAN DIEGO, CA, March 02, 2012 /24-7PressRelease/ — The founders of OT Surf realized that there was a need among active female watersports enthusiasts for a bikini that would look good, be comfortable, non-restrictive and, most importantly, stay put in the toughest conditions. OT Surf has also made it a priority to manufacture these bikinis in the USA.
OT Surf started with two people with a passion for surfing, traveling and the environment, who became frustrated with the options, functionality and quality of the clothing and sports swimwear on the market, particularly women's bikinis.
OT Surf designs its bikinis to be completely adjustable, using a unique blend of materials in order to limit the amount of stretch. The side-tying drawstring on its sports bikini bottoms allows you to create a perfect fit so the next time you are ducking under a wave, you won't have to struggle to pull your bottoms back up.
OT Surf's sports bikini top is also completely adjustable. The criss-cross design limits pressure on the back of the neck and gives you one less tie to worry about. If that tie does come undone, it's not as catastrophic as a conventional two tie bikini. Ladies, if you are searching for a functional and attractive surf bikini, you need look no further!
OT Surf's signature sports bikini is perfect for any active woman. Whether you are wake boarding, water skiing, SUP boarding, surfing or just playing in the water, this sports bikini will have you covered (literally)! Another great feature of OT Surf's bikini line is that you won't sacrifice looking good for functionality. The bikinis are designed for ladies who want to look sexy, yet still feel comfortable and secure.
In addition to conducting its swimwear and clothing production locally, OT Surf strives to use recycled and recyclable materials whenever possible, without sacrificing quality. By using local vendors and not outsourcing production overseas, the company is able to reduce its carbon footprint. OT Surf also partners with sewing contractors who adhere to strict labor standards.
Where to Buy
The first bikini bottom available in OT Surf's line is similar to a cheeky boy short. It shows just the right amount of cheek, but with enough coverage to stay in place while you are showing off your skills in the water. This bikini bottom retails at $48. Place your pre-order on Kickstarter by April 2, 2012.
OT Surf's signature bikini top comes lightly padded, with sewn-in foam, which means you will no longer have to deal with padding malfunctions in the water. This bikini top retails at $48. Place your pre-order on Kickstarter by April 2, 2012.
The price quoted for both tops and bottoms includes shipping to anywhere in the United States. Shipping to other countries is available starting at $10.
Buy online at www.otsurf.com or email [email protected] for more information.
OT Surf is a company that designs sports swimwear that is both sexy and secure. All of our products are made in the USA. You can find us at http://www.otsurf.com.
—
Press release service and press release distribution provided by http://www.24-7pressrelease.com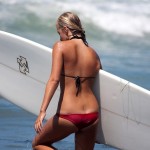 Become A Sponsor!
If you have a product or service that is a good fit for our surf community, we have opportunities for you to sponsor this blog!
Download our media kit now!