VIA- ANALITICA

Surfista es mordido múltiples veces por un tiburón
elnuevodia.com
Sábado, 1 de octubre de 2011
En Puerto Rico, en la playa de Hatillo, un tiburón mordió entre seis y ocho veces a un joven surfista
Un surfer sufrió heridas de gravedad en una pierna la mañana del 30 de septiembre, frente a la costa de Hatillo luego de que supuestamente fuera mordido por un tiburón.
El dato sobre la presencia del escualo fue ofrecido por una persona que al observar al joven herido llamó al sistema de emergencias 9-1-1 y dijo que el atacante había sido un animal de esta especie.
El infortunado, Rafael Colón Casanova, surfeaba frente al condominio Brisas del Mar en el barrio Carrizales a eso de las 9:50 a.m. en compañía de su amigo Jaime Vega Romero cuando fue mordido de seis a ocho ocasiones entre la rodilla y el tobillo derecho, según la Policía.
Vega Romero tampoco pudo precisar qué mordió a su amigo. Entretanto, Colón Casanova, de 27 años, dijo que estaba en una ola cuando sintió que algo lo mordió y lo haló por breves segundos.
El joven fue llevado al hospital regional de Arecibo donde se encuentra en condición estable…
For the full story go here:
http://www.analitica.com/curiosidades/4776614.asp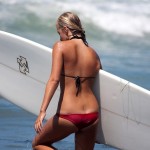 Become A Sponsor!
If you have a product or service that is a good fit for our surf community, we have opportunities for you to sponsor this blog!
Download our media kit now!