VIA – LAIST


Video: Watch A Surfer Ride San Diego's Glow-in-the-Dark, Algae-Infested Blue Waves
Screenshot (YouTube)
Algae blooms off the coast of San Diego have been turning waves a rusty red by day and a radiant, bioluminescent blue at night.
Here's the science behind the eerie, glowing waves, according to the Los Angeles Times:
The blue glow is caused by an algae bloom commonly referred to as a red tide. The organisms, phytoplankton called Lingulodinium polyedrum, have bloomed since late August, turning the water brownish-red in the daytime, according to UC San Diego scientists.
The churning of the waves turns the tide a brilliant blue, visible only at night.
It's caused by a chemical reaction on the cellular level, said Peter J. Franks, a Scripps Institution of Oceanography professor who calls the phytoplankton "my favorite dinoflagellate."
A video uploaded to YouTube by user LoghanCall shows the phenomenon, including a shot of a surfer catching one of the waves at twilight:
For the original post go here:
http://laist.com/2011/10/01/video_watch_a_surfer_ride_glow-in-t.php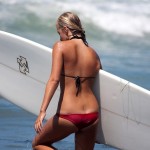 Become A Sponsor!
If you have a product or service that is a good fit for our surf community, we have opportunities for you to sponsor this blog!
Download our media kit now!