VIa – TECHNA BOB
TAT7 Waterproof Case: Take Your iPhone Swimming, Surfing, or Skiing
March 31st, 2012 by: Range
Whether it's to take your iPhone scuba diving, into the bathtub or just into the pool, the TAT7 Case will protect your precious phone from damage underwater. It's an interesting case, that has some uses, especially if you live near the beach or like to go up the slopes to ski or snowboard.
The TAT7 case is waterproof down to 100 feet or 30m and fits either the iPhone 4 or 4S. It's made to tackle water, snow, and high-altitude hiking with ease. The case itself is made out of a high density polycarbonate and stainless steel, and forms a tight seal when closed. One thing I like about the TAT7 Case is that isn't as bulky as some of the other underwater cases out there. One of the biggest benefits of the iPhone is it's slim profile.
For more information go here:
http://technabob.com/blog/2012/03/31/tat7-waterproof-iphone-case/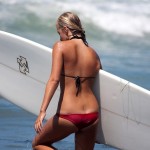 Become A Sponsor!
If you have a product or service that is a good fit for our surf community, we have opportunities for you to sponsor this blog!
Download our media kit now!