Trials have started!
VIA – ASP


ELITE FIELD OF 32 AWAIT START OF AIR TAHITI NUI VONZIPPER TRIALS
August 11 2011 | Posted in Press Releases,
Teahupo'o, TAHITI (Thursday, August 11th 2010): Six Hawaiians, five Australians, two Peruvians and two Brazilian surfers make up an elite field of 16 internationals who have landed in Tahiti to contest the prestigious Air Tahiti Nui VonZipper Trials scheduled to take place at the notorious left-hand reef-break of "Teahupo'o" on the weekend.
The Air Tahiti Nui VonZipper Trials has a four-day window beginning this Sunday, August 14th and is a precursor to stop 5 on the ASP Men's World Tour, the Billabong Pro, Tahiti. Only the winner is guaranteed a wildcard seed direct into the Billabong Pro's elite main event. A second position is open to the highest placed local Tahitian surfer – with a total of 16 locals rounding out the total 32 man draw.
All have been chosen based on previous performances at either Teahupo'o or abroad, and for their dedication to riding the world's most intimidating surf spots.
The nature of the Teahupo'o break and the intensity of competition make the competition like no other. In surfing circles, the trials winner is lauded as a minor hero – required to put his life on the line inside the huge barrels that break across dangerously shallow, tropical reef – and the respect earned from his peers is matched only by the might of the break itself.
From there, further glory lies in overcoming one of the Billabong Pro's top seeds in Round 1 of the main event. In 2011 those seeds include current world ranked no. 1, Joel Parkinson (Gold Coast, Qld, AUS), world ranked no. 2 Jordy Smith (Durban, ZAF) and world ranked no. 3 Adriano de Souza (BRA).
Historically, the Air Tahiti Nui VonZipper Trials champions have a habit of putting a dent in the world title campaigns of their top-seeded rivals. Most notably in 2007 when relative unknown Brazilian Bruno Santos and local wildcard Manoa Drollet went all the way to the final, finishing first and second respectively.
Along with the internationals, an additional field of 16 local Tahitian surfers make up the total trials field of 32. Organisers are hoping to kick-off the Air Tahiti Nui VonZipper selection process from Sunday.
The VonZipper Air Tahiti Nui Trials window runs from August 14th – 17th, with just one day of competition required to find a winner.
A series of pre-event webisodes will be made available over coming days for websites. Stand by for further info.
Any media looking to register to attend the Billabong Pro, Tahiti or those who do not already receive event updates should apply here:
http://billabongpro.com/bbpro/tahiti_media_registration
Air Tahiti Nui VonZipper Trials Official International Invitees
Jamie O'Brien (Sunset Beach, Oahu, HAW)
Bruce Irons (Kauai, HAW)
Anthony Walsh (Lennox Head, NSW, AUS)
Damien Wills (Copacabana, NSW, AUS)
Danny Fuller (Kauai, HAW)
Gabriel Villaran (Lima, PER)
Bruno Santos (BRA)
Kamalei Alexander (Kauai, HAW)
Laurie Towner (Yamba, NSW, AUS)
Shane Dorian (Big Island, HAW)
Dylan Longbottom (Forresters, NSW, AUS)
Dean Bowen (Gerroa, NSW, AUS)
Ben Sanchez (Hossegor, FRA)
Ricardo de Santos (BRA)
TJ Baron (Oahu, HAW)
Alvaro Malpartida (PER)
PLUS 16 TAHITIAN LOCALS – TBC (following 'trials for the trials' event Saturday)
Former Champions
2010 Tuamata Puhetini (PFY)
2009 Heiarii Williams (PFY)
2008 Jamie O'Brien (HAW)
2007 Manoa Drollet (PFY)
2006 Heiarii Williams (PFY)
2005 Manoa Drollet (PFY)
2004 Heimata Carroll (PFY)
2003 Alain Riou (PFY)
2002 Vetea David (PFY)
2001 Bruce Irons (HAW)
For the full story and links to the live feed go here:
http://billabongpro.com/tahiti11/news-article-gb/elite-field-of-32-await-start-of-air-tahiti-nui-vonzipper-trials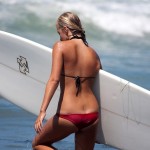 Become A Sponsor!
If you have a product or service that is a good fit for our surf community, we have opportunities for you to sponsor this blog!
Download our media kit now!