VIA – BRECORDER
Tens of billions at stake in BP oil spill trial
February 16, 2012
RECORDER REPORT
Tens of billions of dollars will be at stake when BP heads to a US court this month to determine how much it owes for the massive Gulf of Mexico oil spill and how much it can shift to subcontractors.
Several government probes have castigated BP, rig operator Transocean and Halliburton – which was responsible for the runaway well's faulty cement job – for cutting corners and missing warning signs that could have prevented the disaster.The April 20, 2010 explosion on the BP-leased Deepwater Horizon drilling rig killed 11 workers, blackened beaches in five US states and devastated the Gulf Coast's tourism and fishing industries.
It is now up to a federal judge to determine whether the deadly missteps constitute gross negligence, how much of the blame rests with each party and whether punitive damages should be imposed.
"There's only one path for BP to take – blame it on as many other people as possible and make sure it's not cast as gross negligence," said Blaine LeCesne, a law professor at Loyola University in New Orleans who has been following the case closely."That way they may be able to limit their cost to $30 or $40 billion as opposed to $100 billion." Judge Carl Barbier – an expert in maritime law with a reputation for efficiency – has consolidated hundreds of spill-related lawsuits into a single case set to begin on February 27 in New Orleans.
BP – which last week reported a $23.9 billion profit for 2011 – has said it is working to reach a settlement with the US government over a host of civil fines and possible criminal charges."We are prepared to settle if we can do so on fair and reasonable terms, but equally, if this is not possible, we are preparing vigorously for trial," chief executive Bob Dudley said after the British energy giant surged back into the black.
That settlement will likely come in at a record $20 to $25 billion, Morgan Stanley estimated in a recent research note.That would significantly exceed the $12 billion provision that BP set aside for those penalties as part of the $41 billion charge it posted in 2010 to cover spill-related costs, analyst Martijn Rats wrote.
BP will also still have to deal with thousands of claims from fishermen, coastal businesses, state and local governments and others able to prove they suffered economic damage from the spill.
"The big fear of course is punitive damages," Ed Sherman, a law professor at Tulane University, told AFP.
BP would face a much bigger financial risk if the case was being handled by a jury, Sherman said, but Judge Barbier could still impose punitive damages of anywhere from one to five times the economic damages caused by the spill.
While any punitive damages will…
For the full article go here:
http://www.brecorder.com/fuel-a-energy/193/1155927/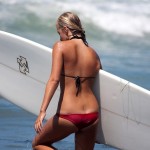 Become A Sponsor!
If you have a product or service that is a good fit for our surf community, we have opportunities for you to sponsor this blog!
Download our media kit now!