VIA – WALL STREET JOURNAL

The Photograph of a Lifetime Was No Day at the Beach
By PIA CATTON
PHOTO:


Photographer Matthew Clark captured this image of the Long Beach waterfront in October 2010. The photo was snapped up by Quiksilver for the poster announcing its upcoming Long Island surf competition.
"I've never taken a photo like this before or since," said local surf photographer Matthew Clark.
He was referring to the blazing image that makes up the poster for the Quiksilver Pro New York, a two-week surfing competition coming to Long Island on Sept. 1, and the first-ever Association of Surfing Professionals World Title Race stop on the East Coast.
The image captures the Long Beach shorefront looking down the barrel of a huge wave lit by a bright orange sunset. Mr. Clark, 27, a native of Queens now based in Merrick, Long Island, snapped it in October 2010, on a hunch that an overcast day would yield a moment of bright sunlight.
"The day itself had good waves, but the light was bad," he said. "I had experienced this over the years—a storm front will move across Long Island, and you'll get a break in the clouds. With literally minutes between the time the sun fell below the cloud line and when it would be blocked by the horizon, I floated not so patiently around in the water, waiting for a wave to come in."
After almost 90 minutes in the water—which he recalled being "in the upper-50 degrees"—the sun reached a point above the horizon but below the clouds. "We got a blast of sunlight for about 12 minutes," he said.
As a piece of surf photography, the shot wasn't initially valuable because it's an "empty wave"—one without a surfer on it. "It's less of an action photo," Mr. Clark said. Then Quiksilver came calling for a poster image.
To shoot waves, Mr. Clark protects his camera and its 15-millimeter fish-eye lens inside a waterproof metal casing that does not allow the user to review photos or adjust settings. "You are locked into what settings you have in the housing and you have to work within those constraints," he said. "When you get to the beach, then you look."
Because he is based on the East Coast and shoots mostly in New York, Mr. Clark's road to renown has been rockier than it might be for colleagues shooting big waves on the West Coast. He is, however, the only East Coaster to win Surfing Magazine's Follow the Light Foundation award.
For the full story go here:
http://online.wsj.com/article/SB10001424053111903327904576526913752072214.html?mod=googlenews_wsj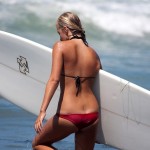 Become A Sponsor!
If you have a product or service that is a good fit for our surf community, we have opportunities for you to sponsor this blog!
Download our media kit now!