This out to be a hot topic..
VIA – NEWS AUSTRALIA
Top surfer Kelly Slater asks why recreational marijuana use is banned in sport
World champion questions testing for recreational drugs
Asks why snowboarder lost gold medal after positive test
"I would have thought it slowed him down"
No dope: Kelly Slater is chaired up the beach after clinching his 11th world title Picture: Kelly Cestari/ASP
SURF legend Kelly Slater is happy to submit to random drug tests but has queried whether marijuana should be a punishable offence in sport.
The 11-time world champion is in Australia for the start of the World Tour, which opens with the Quiksilver Pro this weekend.
It will be the first event to fall under new anti-doping guidelines which allow for surfers to be tested for performance enhancing drugs and "recreational" substances, including alcohol, cannabis and cocaine.
Teetotaller Slater, who has yet to confirm whether he will try for a 12th world crown, said it was "silly" that a snowboarder was stripped of his Winter Olympics gold medal for testing positive to marijuana.
"I was like, you think that helped him or hurt him? I would have thought it slowed him down," Slater said.
"It was kind of ridiculous. The guy wins and…"
For the full story go here:
http://www.news.com.au/top-stories/kelly-slater-questions-whether-marijuana-use-should-be-banned-in-sport/story-e6frfkp9-1226280281549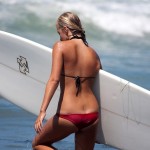 Become A Sponsor!
If you have a product or service that is a good fit for our surf community, we have opportunities for you to sponsor this blog!
Download our media kit now!