VIA DAILY MAIL UK



Torrents of alcohol, kite surfing with naked models and celebrity bed-hopping: The decadent secrets of Branson's paradise island
By Alison Boshoff
Last updated at 12:35 PM on 24th August 2011
The paradise island of Necker provides the perfect stage for the exploits of its dare-devil, attention-seeking owner, Sir Richard Branson — who watched in horror as his stunning house there was reduced to smouldering ashes on Monday.
It was here that, on his wedding day, he was lowered from a helicopter into the enormous 90ft swimming pool, clad in a top hat and tails. (It's no surprise that the guests struggle to remember what his bride, Joan Templeman, wore or did on that day in 1989.)
And it was here that the Virgin boss has entertained his A-list celebrity friends — everyone from Princess Diana to Kate Moss.
Despite its elite guest list, Branson's island is anything but formal. One recent visitor told me that as she left by speedboat, he saluted her — and all the other boats in the bay — by dropping his trousers and baring his bottom, as if he were a daft schoolboy rather than a billionaire captain of industry.
This prank is typical of Branson, who loves to entertain his guests on Necker with risqué banter and torrents of alcohol.
It never fails to give him a thrill to let slip, like a James Bond villain, that he has his very own Caribbean island, on which everything has been made to his specifications.
The entire island — bought for £180,000 in 1979 — is exactly as he wants it, with even the top of a mountain blasted off at his request.
The vast wooden roof of the Great House — which burned down this week after it was struck by lightning during a tropical storm — was made and assembled in Brazil, then dismantled and shipped to the British Virgin Islands, while its stone floors came from Yorkshire.
Friends who return year after year to Necker say that Branson, who always dresses in white linen when he is holding court there, is a hugely social host.
He has the Times crossword faxed over every day, but other than that peculiarly British quirk, the overriding feeling about the island is of the exotic, with pink flamingos, giant tortoises and Asian-themed decor.
Branson brought over leading chefs — one from Raymond Blanc's award-winning restaurant, Manoir aux Quat' Saisons in Oxfordshire — and the best staff.
He loves to race sailing boats around the island, and revels in his expensive boys' toys — including powerboats, catamarans and a £20,000 telescope which he has sited on the roof.
His wife Joan prefers to keep her feet more on the ground, and quietly keeps his more fantastical flights of fancy in check.
For example, she was sometimes to be seen running a duster over polished wooden surfaces in her residence: despite their enormous wealth, she likes to do her own housework.
Branson once told an interviewer that he bought Necker to impress Joan, now the mother of his two children.
She doesn't seem to mind his frequent flirtations — a few months ago he appeared in publicity pictures which showed him kite surfing off Necker, with a gorgeous naked model clinging to his back.
Apparently Joan was there during the photo-shoot and dismissed it as 'typical Richard'.
Naturally, there have been decades of dramas within the walls of the Great House — from honeymoon troubles to failing marriages and holiday romances.
Some celebrities have visited by invitation — Branson spends the festive season and at least two months in the summer on Necker every year, and tends to have up to 30 guests staying in the main house and six guest cottages — but for the rest of the year the island can be rented out for £34,000 a night.
And this spring Branson hired the island out for a magazine shoot which featured a host of models — including actor Orlando Bloom's wife Miranda Kerr and the British model du jour Rosie Huntington Whiteley, posing naked on the beaches and in the tropical forests.
It is particularly popular with super-wealthy Americans, especially honeymooners: Brad Pitt and his then-fiancée Jennifer Aniston wanted to book the place for their honeymoon in 2000, but it wasn't free.
While Hollywood comic Eddie Murphy managed to secure Necker for his honeymoon with wife Nicole in 1993, they passed a miserable week.


He didn't want to swim, sail, windsurf or play tennis and spent hours morosely watching old videos of his films and listening to music.
Murphy complained that he was 'going stir crazy' because there was no hotel bar and no new people to meet.
It wasn't a great omen for the marriage, and indeed the couple are now divorced.
Actress Geena Davis's 1993 honeymoon here had lasting ramifications for her marriage to second husband, film director Renny Harlin.
Inspired by island life, the two went on to make the pirate adventure, Cutthroat Island.
It was one of the biggest flops in film history. Their marriage limped on for just a year after that humiliation.
Actor Kevin Costner came here in the dying days of his marriage to Cindy, and had a miserable time too.
However, a break on Necker has ignited (as it were) some romances — including that of supermodel Kate Moss, who in 2006 accepted an invitation from Richard to recharge her batteries on Necker.
Branson's son Sam said of the model: 'Sometimes she's very normal-looking, like anyone else, and then she'll turn round and you'll be like, "Oh my God, you're so beautiful." She's great fun, really loud and open, and I really admire her.'
Moss took up with Sam's handsome friend Jamie Burke, 11 years her junior. The two of them became so close that he left Necker with her and went to Aspen for a skiing break, although it did not last.
People say that Necker is the place to be if you want to have a good time — and for nobody else to know about it.
Guests reminisce about actor Robert de Niro partying all night in the enormous lounge, which includes a pool table, while diva Mariah Carey enjoyed a break on the island which included flirting with her host over the rum punch.
Heather Mills came for a fabled 'divorceymoon' party with 20 of the people who had supported her as her marriage to Sir Paul McCartney crumbled, including a vegan shoe designer, the owner of a local B&B and an estate agent — at a cost of £250,000.


But for many of the famous, all this is free. Sarah Ferguson has accepted numerous complimentary jaunts from Branson, as have her daughters, Beatrice and Eugenie, friends with Branson's daughter Holly and son Sam.
For the full story go here:
http://www.dailymail.co.uk/femail/article-2029410/Richard-Bransons-Necker-Island-secrets-Naked-models-kite-surfing-celeb-bed-hopping.html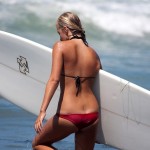 Become A Sponsor!
If you have a product or service that is a good fit for our surf community, we have opportunities for you to sponsor this blog!
Download our media kit now!