VIA LI HERALD


Quiksilver Pro N.Y. creating a buzz
August 24, 2011
Long Beach surf competition to include mix of music, fashion, action sports
By Anthony Rifilato
Just a few days after he returned home from a surfing trip to Peru last week, local pro surfer Balaram Stack said he was trying not to think about the pressure as he gears up for a "whole new level of competition" when the Quiksilver Pro New York event hits Long Beach Sept. 1-15.
"It's like a dream," Stack said. "I never thought that there would be a contest this big in New York, let alone me being in it — I'm really excited."
In July, Stack was granted one of two wild-card slots to compete against 34 of the world's top surfers — including 10-time World Champion Kelly Slater — in the first Association of Surfing Professionals world tour event ever held on the East Coast.
The Quiksilver Pro New York is the sixth of 11 events on this year's ASP world tour. Stack, 19, will be vying for an unprecedented $1 million prize purse, with the winner pocketing $300,000. Forecasters are calling for ideal wave condition in early September, and Stack, who lives in Point Lookout, said that because he has been surfing in Long Beach his entire life, he could have an edge against the world's elite surfers.
If there are waves, he said, "It's going to be one of the best events on the tour."
The event, which will be telecast on MSG Networks and the music network Fuse, will be nothing less than a sports, music, art and fashion festival featuring 48 bands — including the Flaming Lips, Interpol and Taking Back Sunday — BMX, skateboard and moto
"Surfing at this level has a window of approximately 12 or 13 days in which to achieve four good days of surfing, so there are on days and off days of surfing," explained Nicola Pero, vice president of Incognitus, the company working with Quiksilver to produce the event. "Don't just focus on the surf site — this has a whole range of activities. This is the first time that surfing has been brought together on a common platform with music, fashion and skat[ing] — so when the surfing festival is having an off day, the live festival will … offer entertainment and activities."
http://www.liherald.com/stories/Quiksilver-Pro-NY-creating-a-buzz,35004?content_source=&category_id=5&search_filter=&event_mode=&event_ts_from=&list_type=&order_by=&order_sort=&content_class=&sub_type=&town_id=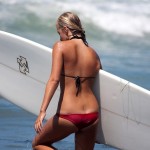 Become A Sponsor!
If you have a product or service that is a good fit for our surf community, we have opportunities for you to sponsor this blog!
Download our media kit now!