VIA – NOOSANEWS
Photo – After years of fiddling with prototypes, surfboard maker Tom Wegener has won an Australian International Design Award for his foam Alaia board.
Geoff Potter
Tuna changes way we surf
Bill Hoffman | 2nd August 2011
THE next big thing in surfing may have emerged from a shaping shed at Cooroy.
Certainly the design world gets the possibilities of the Seaglass Project Tuna, awarding former Surfing Magazine Shaper of the Year Tom Wegener with an Australian International Design Award last month.
Wegener drove the finless Alaia board rediscovery, which has seen state, national and international competitive divisions created to accommodate it.
Backed by manufacturing giant Global Surf Industries, he is now counting on the design award for the Tuna helping the surfing public understand not only the elements that make it work, but also what a practical board it is.
Wegener said the new boards were designed to provide the general surfing community access to the special feel of the thin timber Alaia craft, which only a few can surf.
When he won the shaper of the year accolade in 2009, he told Surfing Magazine he hoped his legacy to the sport would be that people remembered him as the guy who brought back Alaia boards.
The thicker, more buoyant Tuna boards, made of EPS foam, will open a whole new direction for the sport.
They tail-slide quickly into a parallel track and with no fin drag develop real speed quickly.
Surfed off rails that flex and a bottom shape that sucks onto the wave surface, Wegener said they took the sport to a three-dimensional level where just about anything was possible.
Importantly, they are as fun to surf on messy on-shore days as they are in perfect point conditions and a lot easier for the average rider to surf.
In complete contrast to what holds true for traditional finned surfboards, shorter Tunas (5'3") work better in waves overhead height than the longer model (6'2") which are more suited to waves below that height.
The boards are only 17 inches wide, but at 2.5 inches thick are more buoyant than the thin Alaias and much easier to catch a wave.
"For me, I can ride any surfboard in the world," Wegener said.
"I can make any board in my factory and the Seaglass Tuna is what I surf most often. I see the young kids ripping on them and carving the wave in ways inconceivable on a finned board.
"On-shore, waist-high waves on a summer afternoon is where these boards come into their own."
The path to finding the right combination of thickness, rail design and bottom shape to transition the Alaias to a craft that would bring more pure stoke to every surfer's quiver was one of trial and error.
For the full story go here:
http://www.noosanews.com.au/story/2011/08/02/tuna-changes-way-we-surf-surfboard-shaping/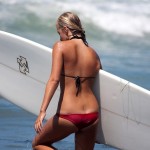 Become A Sponsor!
If you have a product or service that is a good fit for our surf community, we have opportunities for you to sponsor this blog!
Download our media kit now!