VIA – LOS ANGELES TIMES


U.S. to extend border fence 300 feet into Pacific
The $4.3-million project between Tijuana and Imperial Beach aims to seal off space that opens when the waters recede at low tide. A steel fence 18 feet tall will replace a gap-riddled barrier.
A temporary pier is being built to hold a crane that will pound large steel posts into the sand for the new surf fence. (Don Bartletti, Los Angeles Times / November 21, 2011)
By Richard Marosi, Los Angeles Times
November 25, 2011, 9:13 p.m.
Reporting from Imperial Beach—
Pounding surf and corrosive sea air have stymied efforts for years to erect a sturdy fence at the westernmost edge of the U.S.-Mexico border.
Now, the U.S. Border Patrol is trying again, with a $4.3-million project that would extend a nearly quarter-mile barrier 300 feet into the Pacific Ocean and remake one of the more scenic spots on the border.
When completed early next year, a steel fence 18 feet tall will replace a teetering, gap-riddled barrier that did little to discourage people from crossing back and forth on a wide beach linking Tijuana and Imperial Beach.
The "Surf Fence Project" comes as the federal government winds down barrier-building projects that have fortified about 670 miles of the frontier in recent years. Fences have been built atop sand dunes and mountain slopes, through remote deserts and urban streetscapes.
Fortifying the border where it plunges into the Pacific, however, presents unique logistical challenges. Before construction even begins, a government contractor must build a long pier to hold a crane, which will pound the fence posts into the sand. On a recent day, people on the Tijuana side of the beach marveled at the temporary structure, which is under construction, mistakenly believing it would be used for fishing or for docking boats.
Though border fencing efforts have long drawn criticism, no significant opposition has emerged for the surf project, mainly because one kind of barrier or another has existed here since the early 1990s. A fence is necessary, border officials said, to block a gap that opens when the waters recede at low tide.
In the late 1980s and early '90s, hundreds of illegal immigrants would cross at a time and head toward the distant San Diego skyline. More recently, the beach became a popular spot for demonstrators protesting illegal immigration policies. Last year, a group of deported immigrants walked across the line in the sand at the border, in a symbolic protest march. Some of them threw rocks and bottles, said U.S. authorities.
"It still has the potential to be very dangerous, as beautiful as it is," said Assistant Chief Patrol Agent Bruce Parks.
Previous fences couldn't withstand the tidal battering. A barrier constructed of oil-drilling pipes in the early 1990s quickly corroded. Waves washed away some of the steel posts, and others broke off. In 2006, U.S. Marine divers tried to erect a fence made of train rails by maneuvering the rails in the water so they could be pounded in by a pile driver.
It was difficult and dangerous because the rails would swing around at the end of the crane boom as the divers tried to manually place them next to one another in the surf.
For the latest effort, U.S. authorities have turned to a private contractor, Granite Construction Co., which recently built fencing at the base of Otay Mountain east of San Diego. The material used this time will be sturdier: 6-inch steel piping, coated with rust-proof material. The work, Parks said, comes with a 30-year warranty.
Longtime beachgoers think the agency better keep the warranty paperwork. Netza Tapia, 40, said he remembers the days when he would slip through the corroded section of the fence to continue his family walks on the Imperial Beach side of the beach…
For the full article go here:
http://www.latimes.com/news/local/la-me-border-fence-20111124,0,6662761.story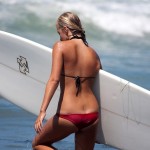 Become A Sponsor!
If you have a product or service that is a good fit for our surf community, we have opportunities for you to sponsor this blog!
Download our media kit now!