VIA – KITV
Surfboard-mounted camera captures moments after shark bite
Surfer shares video of ride to shore
UPDATED 8:44 AM HST Apr 05, 2012

HONOLULU –
When Cody Lopez went out to catch some waves Tuesday, he had his Go-Pro waterproof camera mounted to his surfboard.
"It was really big day, and I thought I'd just get shots of me wiping out," Lopez joked.
But Lopez never really got a chance to ride waves that day, because the only other two people in the water began flagging him down for help.
One was a boogie boarder, and the second was a Waialua surfer who was trying to get away from a shark that just bit him.
"He said, ' I just punched a 10-foot tiger' and I said, 'Oh, OK.' I kind of laughed and said 'Let's go,' you know," Lopez said.
As Joshua Holley left the hospital Tuesday, he thanked his new surfer buddies for helping to make sure he in got to shore safely.
"Whereever you guys are, God bless you. I really appreciate you helping me out. It was pretty frightening. I am just thankful I am alive," said Holley.
In the video Lopez shared, you can see Holley on the board with his injured foot up in the air.
"I took a look at it coming in and said it didn't look that bad. I asked him what his name was. I was trying to keep the situation light," said Lopez. He said the only gnarly point was…"
For the full article and VIDEO go here:
http://www.kitv.com/news/hawaii/Surfboard-mounted-camera-captures-moments-after-shark-bite/-/8905354/10236240/-/cy09fwz/-/
For part 1 go here:
http://www.kitv.com/news/hawaii/Surfer-encounters-shark-at-North-Shore-beach-Pt-1/-/8905354/10236692/-/dxlteh/-/index.html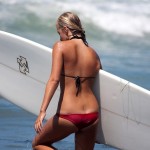 Become A Sponsor!
If you have a product or service that is a good fit for our surf community, we have opportunities for you to sponsor this blog!
Download our media kit now!