VIa – SHOOT ONLINE
"BoardRoom – Legends of Surfboard Shaping" Set For Big Screen Debut In 2012


Wrapping up 3 years of production, filmmakers Robert Jax and Markus Davids, are excited to share their film with the world
Publicity Release Posted: October 05, 2011 18:00:05 EST
Filmmakers Robert Jax and Markus Davids' feature length doc beautifully explores the origins of the surfing culture that became a global phenomenon
Southern California Coast, USA, October 05, 2011 | SHOOT Publicity Wire | — "BoardRoom," a feature length documentary by director Markus Davids, takes us back in time to the origins of the surfing culture in southern California in the 1940's. The film is told by the men who started hand building wooden surfboards in their garages, lived to surf, and by doing so laid the foundation for today's surf lifestyle. Shaping their surfboards they not only created a culture, but an entire industry.
Filmmakers Robert Jax and Markus Davids felt a need to tell their stories and preserve the history of pioneers and the sport. "Surfing is such an important part of not only Southern California's daily life, but a global cultural phenomenon. We wanted to make a movie that captures the essence and roots of the sport, before the commercialization of today's billion dollar surf corporations."
Wrapping up production after nearly 3 years the duo are excited to share their film with the world. "Our audience goes way beyond today's surfer, it will appeal to the guy who started in the 50's to the kid who wants to learn more about the guys who started this business 60 years ago". says Davids. "We realized early on that the story was larger than we had originally thought, it is not only surfing history but part of California culture ", states Robert. "We came back from each interview with stories that have been waiting to be told for over 50 years."
The list of interviews featured in "BoardRoom" reads like the Hall of Fame of the surfboard business, surfers like Greg Noll, Gordon Clark, Harold Iggy, Rich Harbour, Terry Martin, Hap Jacobs, Bing Copeland, Dick Brewer, Larry Gordon, Robert August, Mike Hynson, and many more.
The team of Davids and Jax completed their film "BoardRoom" just in time to be submitted to one of the most important independent film festival, the Sundance Film Festival. Both are excited to share their project, "We are first and foremost filmmakers. We knew we had great stories but it was also important to us to create a visually interesting film that is historically accurate. We spent hundreds of hours going through old photo archives, and personal collections, digging up images that have never been seen before." says Davids. "The sheer amount of documents and visuals that we had at our disposal created a challenge within itself. A lot of the photos were not properly labeled or identified. We received a lot of help from the Surfing Heritage Foundation in San Clemente, helping with identification, and sourcing of material." Davids recalls.
"While in production we tried to take advantage of the latest camera technology available to us. Different locations, and filming environment asked for different cameras" Cinematographer Jax recalls. " We used the popular RED ONE digital cinema camera, Panasonic HD cameras with film style lenses, as well as a Canon 5D for areal and underwater photography". Jax, who also served as the productions editor relied on trusted post production equipment from AVID to assemble the film and DaVinci for color correction.
For the full story go here:
http://www.shootonline.com/go/index.php?name=Release&op=view&id=rs-web4-959781-1317799623-2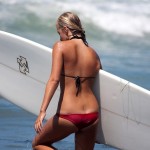 Become A Sponsor!
If you have a product or service that is a good fit for our surf community, we have opportunities for you to sponsor this blog!
Download our media kit now!