VIA – AUSTRALIAN
Bruce Irons battles heaviest wipeout of all
THE pain is real and everlasting.
Bruce Irons was in Sydney for the Surfing Life Oakley Big Wave Awards and agreed to a chat at The Rocks on Wednesday afternoon, still brandishing the all-American square jaw, the classically powerful and broad-shouldered surfing physique, the brooding rock-star quality that could put him in front of Guns 'N Roses without anyone minding too much.
Raw charisma always set the Irons brothers apart and it will never leave Bruce now because it has been strengthened and magnified by compassion, understanding and a depth of character that was lacking when two of the most fearless surfers who ever lived were gallivanting around the world as if they really did think they were immortal.
That feeling lasted until Andy Irons died. It remains impossible to believe. Andy Irons died? If such a passionate and determined soul can be snuffed out like that, heaven help the rest of us.
Fifteen months have passed since Andy was found in a Dallas hotel room by staff, lying on his back with his sheets pulled up to his chin. Questions remain about the circumstances and causes of his death, whether more could have been done to keep an eye on him by his major sponsor, Billabong, or the Association of Surfing Professionals.
Andy had been in bad shape, complaining of illness, when he left a contest in Puerto Rico to return to the Hawaiian island of Kauai to be with his heavily pregnant wife, Lyndie. His mates were furious that he was allowed to travel alone. Legitimate and important issues linger but they also deflect from one very real and heartbreaking fact that becomes painfully clear when Bruce, 32, is viewed in the flesh.
He will never stop hurting. His brother is gone and the change in him is profound. The mere mention of Andy's name puts the quiet in Bruce's voice, tears in his eyes. A brave face is paraded but up close and personal, it's abundantly clear that his spirit will be forever out of whack.
The realisation should not be shocking but somehow it is. The Irons brothers were human. While Andy's mortality was proved on November 2, 2010, Bruce's vulnerability is now worn on his sleeve for all to see. He will hate this being said, but there was a split-second on Wednesday when the sadness carved in his face was so endearing and hopeful and hopeless and heart-rending that it will not be forgotten soon.
"I think about him every day," Bruce said.
The Tarrant County Medical Examiner's Office ruled that Andy's cardiac arrest was due to a severe blockage of a main artery of the heart. The official autopsy report listed a second cause of death as "acute mixed drug ingestion", listing alprazolam, methadone, benzoylecgonine (a metabolite of cocaine) and traces of methamphetamine as being in his system.
The plan was to question Bruce about all this because by now he must have found acceptance of the death itself. The grief, however, was still so fresh. Autopsies fail to touch on what is left behind, the people fighting an emptiness they are unable to fill.
Hanging from Bruce's neck is a pendant. "It brings me positive energy," he said. The poor bloke. "It's never going to be easy."
Bruce has only sketchy memories of the days, weeks and months after Andy died. The shock was so deep and the sense of loss so stupefying that he felt like a man living outside his own body. Andy had told him about the first time he died.
This story was known only by a select few. Andy was in Indonesia on a surfing trip with Australians Matt Archbold and Nathan Fletcher. On the night of his 21st birthday, Andy drank a bottle of Jack Daniels and fell asleep.
He was a known sufferer of sleep apnea and Fletcher, staying in the same room, thought nothing unusual of Irons' incessant snoring – until it stopped.
When Fletcher checked on Andy, he saw a ghostly white face and purple lips. Andy was put in a shower, slapped around a bit, an ambulance was called. He slipped in and out of consciousness on the way to hospital.
His lung collapsed. He flatlined for six minutes and saw a bright light he wanted to follow. Telling Bruce the tale, Andy said that when he saw his body on a table, watching it being worked on by doctors, he hoped they failed to revive him.
All of which fuelled Bruce's worry. He was nagged by a sense of tragedy being in store for himself or big brother.
Bruce would lie in bed at night fearing the worst, sensing Andy was in serious trouble, calling him the next morning to make sure everything was OK. It always was OK, sometimes only just, but then one morning nothing would ever be the same again.
The worst day of Bruce's life began when he was woken from a deep sleep at 7am by the eight-months pregnant Lyndie pounding on his door, screaming. Bruce knew what it meant. He knew his brother was dead before Lyndie said the words. He just knew.
Twelve days later, a memorial service was held at Hanalei Bay, Kauai, attended by thousands. Those in attendance say Bruce looked like a shell of a man. Andy's ashes were spread in the bay. Thousands of mourners sobbed.
On December 8, 2010, Andy Axel Irons came into the world, and now, when Bruce puts his nephew to his face and stares: "It's the spitting image of my brother."
The surfing world is a crazily dysfunctional organism but inside the chaos is soulfulness and camaraderie. Looking after Bruce has become paramount. When he spoke at the Surfer Poll Awards in Hawaii last December, there was a standing ovation.
Every day brings memories, and the ocean, the place where he and Andy grew up, brings solace. "It's just you and Mother Nature," he said. "I hope that doesn't sound corny."
The small talk takes over. Do you miss being on tour? "I miss the down time, having beers with the boys."
Impressed by Kelly Slater's 11 world titles? "He's an amazing, amazing individual. I don't know if he's human. To be schooling the young kids, I really admire that. He's good for the sport, he's an icon and a damn good surfer."
Did you and Andy hate Kelly? "That kind of stuff sells media. They were full-blown competitors. If you're on tour, you're a competitor. That's why you're doing it, you want to compete and beat people. The media definitely blew it up. Me and my brother grew up idolising Kelly. There was always that mutual respect there but don't kid yourself, my brother wanted to rip his head off."
Has Andy's passing changed your relationship with Slater? "I've never not gotten along with him. If anything it's brought me and Kelly closer because he lost his dad. I've talked to him."
Bruce planned to spend the rest of the week with Koby Abberton and various other surfers in the Sydney suburb of Maroubra. The tattoo across Abberton's collarbone would make Bruce look twice: My Brother's Keeper.
Bruce agrees with the perception of abundant personal growth. "It made me get my act together…"
MORE!!!  http://www.theaustralian.com.au/news/sport/bruce-irons-battles-heaviest-wipeout-of-all/story-e6frg7mf-1226268218737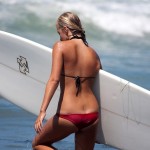 Become A Sponsor!
If you have a product or service that is a good fit for our surf community, we have opportunities for you to sponsor this blog!
Download our media kit now!