VIA SF ATE
A towing company worker moves to get out of the way as waves push the car around while he readies it for towing.
Woman drives car into water at Ocean Beach
Will Kane
Saturday, February 11, 2012
A woman suffered minor injuries early Friday when she drove a Lexus into the water at San Francisco's Ocean Beach, authorities said.
Firefighters arrived around 6:30 a.m. and found the woman sitting in the partially submerged 1993 ES 300 near Lincoln Way. Rescuers waded into the water and pulled the woman out.
The middle-aged woman, whose name has not been released, used a ramp near Lincoln Way to get onto the beach and managed to drive across 350 feet of sand before coming to a stop in the surf, said fire Capt. Jeanne Seyler.
"Once you hit (the sand at) the bottom of the ramp, you have to keep moving," Seyler said. "It is really tough going. I'm amazed she got as far as she did."
The woman was taken to San Francisco General Hospital. Authorities do not know why she drove into the water or whether she was intoxicated, Seyler said.
The car is registered to a 42-year-old San Francisco woman who…
Read more: http://www.sfgate.com/cgi-bin/article.cgi?f=/c/a/2012/02/10/BAAL1N61TE.DTL#ixzz1m9phhABZ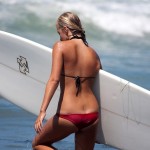 Become A Sponsor!
If you have a product or service that is a good fit for our surf community, we have opportunities for you to sponsor this blog!
Download our media kit now!