Yumm!
VIA – MY FOX NY
Lobster Cauliflower Risotto Recipe: MyFoxNY.com
Lobster Cauliflower Risotto Recipe
Lobster Cauliflower Risotto Recipe
Updated: Thursday, 01 Sep 2011, 1:01 PM EDT
Published : Wednesday, 31 Aug 2011, 9:25 PM EDT
MYFOXNY.COM – Executive Chef Lucas Manteca of the Ebbitt Room at the Virginia Hotel in Cape May, N.J., comes to the Good Day Café.
The Ebbitt Room at The Virginia Hotel
22 Jackson Street
Cape May, NJ 08204
(609) 884 5700
www.virginiahotel.com/ebbitt.html
LOBSTER CAULIFLOWER RISOTTO
Roasted Cauliflower Puree
1 medium cauliflower head
1 cup sour cream
1 cup fresh squeezed orange juice
1 cup extra virgin olive oil
Salt and pepper to taste
Cut the florets out of a medium size cauliflower head, save about 6 florets for garnish and place the rest into a bowl with salt, pepper, and drizzle with olive oil; toss to make sure that all the florets are completely coated with seasoning and oil. Place in a baking pan and into a preheated 400 degree oven. Cook until the florets are golden brown and tender. Place the roasted florets into a blender and add one cup of sour cream and one of orange juice and blend until smooth….. salt and pepper to taste.
Risotto
2 cups Arborio rice
2 cups minced shallots or white sweet onions
1 cup apple wood smoked bacon
1 quart fresh cooked lobster meat
1 tbsp minced garlic
1 cup white wine
1 quart clam juice/vegetable stock or water
1 pint roasted cauliflower pureed
1 tbsp butter
Salt and pepper to taste
In the first medium size pot, heat up your liquid to cook the risotto, being vegetable stock, clam juice or just seasoned water, on your second medium size at low heat melt a tablespoon of butter, when sizzling add bacon, onions, garlic and sweat until tender but now color, right after add the Arborio rice and sweat until the rice is translucent. When the rice get to this stage, add the white wine and reduce until almost dry, right after keep add the rest of the liquid in batches of about 4 oz each time while stirring very gentle…. Keep adding liquid as the rice hydrates and gets "al dente", as the last stage of this process, add 1 Pint of cauliflower pureed, 1 pint of cooked lobster meat, fold into the risotto and adjust seasoning… ready to serve.
Shaved Cauliflower Florets
6 cauliflower florets
Japanese Mandoline
Cut in half the cauliflower florets and placing the flat part on the mandoline, and being very careful, thin slice them and place them in water.
Salsa Verde
6 tomatillos, peeled and roasted until tender
2 large green tomatoes
2 green bell peppers, deveined and diced
2 poblano peppers, deveined and diced
1 pint green grapes
1 tbsp minced garlic
½ cup minced scallions/green onions
½ bunch minced cilantro
1 tbsp honey
1 tsp cumin
½ cup lime juice
½ cup extra virgin olive oil
Salt and pepper to taste
In a medium size stainless steal pot at medium temperature, add all the ingredients and sweat for about 45 minutes, then place in blender or food processor and blend until smooth.
Roasted Halibut
4 (6 oz) Halibut filets
Halibut is a very difficult fish to cook as it must be cooked to perfection, when overcooked it falls a part and dries out very easily.
Season the filet with salt and pepper on both sides.
Start with a very hot non stick pan, add a drizzle of vegetable oil or blended (soy and olive), make sure that the pan is smoking before placing the filet on the pan, To taste the heat of the pan, drag the fish on the pan's surface and if it does not stick, it is ready to place it down…. Cook on the first side and then flip as the first side browns, place in the preheated oven, at 450 degrees, for five minutes. Ready to plate.
To Assemble: Ladle about 4 oz of risotto on each plate, then place the halibut filet on top, ladle enough salsa verde to coat the filet, sprinkle the cauliflower shaves on top of the dish.
BIOGRAPHY
Born and raised in Argentina, world-class culinary connoisseur Lucas Manteca calls the beach his home. Both a talented chef and passionate surfer, his ability to perfect seasonal and spontaneous cuisine is evident in the new infusions that he now brings to The Virginia Hotel's Ebbitt Room menu as its executive chef.
Searching for his first adventure and a warmer ocean, Manteca left his home in Argentina at 20-years-old to begin his culinary career as owner of a beachfront restaurant in Costa Rica. Discovering his genuine zeal for cooking, Manteca then shifted his focus onto culinary school in New York City.
After training with some of New York City's best chefs, Manteca brought his talent to the kitchens of upstate New York's Blue Hill at Stone Barn, Bray, England's Fat Duck – a Michelin Guide three-star rated restaurant – and the world-renowned Martin Berasategui restaurant in San Sebastian, Spain. Setting the culinary stage on the Jersey Shore in 2005, Manteca became well-known for opening Stone Harbor's most popular restaurant Sea Salt, winning a reputation for innovative cuisine; he followed that stint with his leading role as executive chef and partner of Quahog's Seafood Shack in Stone Harbor in 2008.
Manteca's latest venture as executive chef of The Virginia Hotel's critically-acclaimed Ebbitt Room brings Cape May residents and vacationers upscale dining at its
http://www.myfoxny.com/dpp/good_day_ny/good_day_cafe/lobster-cauliflower-risotto-recipe-cafe-20110901
For the full article go here: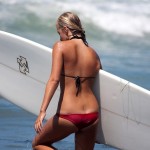 Become A Sponsor!
If you have a product or service that is a good fit for our surf community, we have opportunities for you to sponsor this blog!
Download our media kit now!