Incredible!
VIA – COURIER MAIL AUSTRALIA
Daredevil Mark Visser parachutes into middle of the ocean in quest to catch a 30m wave

Peter Hall
From: The Courier-Mail
September 02, 2011 7:36AM
SURFERS are used to taking drops – but not from 5000 feet!
In a world first, Sunshine Coast adventure athlete Mark Visser has taken the quest to ride the planet's biggest waves to new heights.
As part of Operation Deep Blue, to be featured in a documentary series called 9 Lives, he and his team were "air-dropped" into the middle of a heaving ocean, thousands of kilometres from land.
Photo – Mark Visser parachutes from 5000 ft to catch 30m waves in the middle of the ocean.
Source: The Courier-Mail
Visser, from the Sunshine Coast, said some extreme surfers dreamed of conquering waves of up to 100 feet (30.5m).
He said that, believe it or not, the main problem had not been how to ride such a beast, but how to get to it.
"These waves break in the middle of oceans, out of fuel range of helicopters and too far for surfers to access quickly enough by boat."
Visser, 28, trained with Navy Seals to give himself the best chance of survival in the advent of a catastrophic wipeout. He learned how to hold his breath for six minutes and escape from underwater
As part of the mind-blowing mission, scientists using satellite technology helped find "several" open-ocean hotspots.
Specialist aircraft was then used to put surfer Visser and his team into position at a location producers have not yet revealed.
A ramp was lowered at the rear of the plane and they were parachuted in with jet skis, surfboards and cameras.
After a surf session with brother and jetski driver Kevin, Visser was later collected by boat. At some locations, however, the team will have to spend up to two days in a life-raft before being picked up.
Two "air-drop" missions have been completed, with the size of waves ridden kept a secret for now.
"No-one has ever gone to these lengths to find our holy grail (100 foot waves). We have not achieved this yet, but now we know how to get to these massive waves, the impossible is possible," he said.
For the full story go here:
http://www.couriermail.com.au/news/queensland/daredevil-mark-visser-parachutes-on-to-30m-waves-in-middle-of-the-ocean/story-e6freoof-1226127801145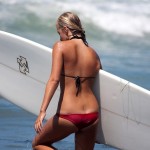 Become A Sponsor!
If you have a product or service that is a good fit for our surf community, we have opportunities for you to sponsor this blog!
Download our media kit now!