This video will get you all warm and fuzzy inside…
VIA – CTV NEWS
Humpback whale rescued near Tofino
By: ctvbc.ca
British Columbia – Sunday Aug. 7, 2011
Date: Saturday Aug. 6, 2011 7:54 PM PT
A humpback whale was rescued off the east coast of Vancouver Island near Tofino, B.C. Friday after being tangled in ropes from a crab trap for days.
A whale watching group spotted the troubled animal and called the Strawberry Island Marine Research Society reporting a whale in distress with rope cutting deep into its flesh.
Whale watching guide John Forde, a volunteer rescuer with Strawberry Island, knew the humpback was in trouble immediately. He said it was moving alarmingly slowly and making tired noises.
"The whole back and tail flute of the animal was severely damaged, mostly from sun damage. It looked like sunburn," he said. "Because it had three floats wedged under the left side of the tail flute, that was forcing the animal to stay on the surface longer than it actually would."
For the full story and video go here:
http://www.ctvbc.ctv.ca/servlet/an/local/CTVNews/20110806/bc_whale_rescue_110806/20110806?hub=BritishColumbiaHome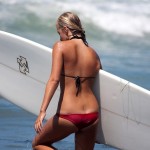 Become A Sponsor!
If you have a product or service that is a good fit for our surf community, we have opportunities for you to sponsor this blog!
Download our media kit now!