VIA – NEW YORK DAILY NEWS


Photo: Ryan Jone
For a late summer getaway without leaving the city, go where the surfers go: The Rockaways.
Surf's up, Rockaway style: A vibrant but overlooked surf scene thrives where the ocean meets Queens
BY Jacob E. Osterhout
DAILY NEWS FEATURE REPORTER
Sunday, August 7th 2011, 4:00 AM
Most people understand that water surrounds New York City, but few realize that you can surf within the city limits.
And not only is it possible to catch waves on some of the nearly 600 miles of city coastline, it's easy to learn as well.
This I know, from experience.
On a recent weekday afternoon I traveled out to the Rockaways and nearby Long Beach to interview one of New York's premier surfing families, the Skudins.
I had never learned to surf, nor did I plan to, but my fear of waves was no match for the sheer enthusiasm of the Skudin family, who could not understand why a reporter would not want to learn to surf, regardless of whether he had a bathing suit on hand.
Beth Skudin and her husband Dave have been surfing New York waters for over five decades and their four sons have been riding local waves since they were 6 years old.
Each week, the four-year-old surf camp run by their sons Cliff and Will Skudin teaches hundreds of New York kids and adults of all abilities how to surf.
And if the Skudin family can teach me how to surf, they can teach anyone to ride waves.
For the full story go here:
http://www.nydailynews.com/lifestyle/2011/08/07/2011-08-07_surfs_up_rockaway_style_a_vibrant_but_overlooked_surf_scene_thrives_where_the_oc.html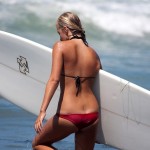 Become A Sponsor!
If you have a product or service that is a good fit for our surf community, we have opportunities for you to sponsor this blog!
Download our media kit now!