Premiere tonite! Looks sick!
VIDEO:
LOST ATLAS – TRAILER from Kai Neville Studio on Vimeo.
VIA – EXAMINER

No frills here: Lost Atlas World Premiere to change future of surfing

Julie Leiendecker
Surfing Examiner
August 2, 2011
"You may feel like you've been hit by a truck after watching it," says Kai Neville, director of Lost Atlas.
On August 4, 2011, Lost Atlas will debut in Surf City. Highly anticipated, this surf film is offering what many have yet to accomplish.
What does this film offer? The film bridges several musical genres within its soundtrack. From Dane Reynolds to Kolohe Andino and a handful of groms in between, the film will feature the world's most progressive surfers in their most candid moments. Kai Neville expresses: "I wanted to make a film that illustrated being on the move… just get up and go, anywhere. I wanted it to be little discombobulated, youth on the run. I don't want the project to look too over produced or clean cut. No frills here."
Watch the trailer!
Lost Atlas will be Neville's first solo project. At just 26 years old, he is providing a fresh approach to surf films that will not go unnoticed. In fact, several major brands have gotten behind this talented filmmaker, including Hurley, Nike 6.0, Pacifico, Monster Energy, Frends, SURFING Magazine and Stab Magazine. Dominique Astorino from Hurley posits: "We are huge fans of Kai and his work. We feel that his films are the pinnacle of high-performance surfing, and we are honored to play a supporting role in what we feel is the next level in surf filmmaking."
"Surf videos and magazines have always played such a huge role to our surfing existence and we wanted to take them both to another level. What's come out of it is a pretty real, gritty and fun illustration of the lifestyle that we love," notes Travis Ferré, Editor in Chief of SURFING Magazine.
For the full story go here:
http://www.examiner.com/surfing-in-national/no-frills-here-lost-atlas-world-premiere-to-change-future-of-surfing
For the movies website, go here:
http://www.lostatlasmovie.com/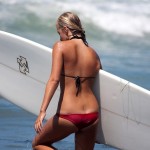 Become A Sponsor!
If you have a product or service that is a good fit for our surf community, we have opportunities for you to sponsor this blog!
Download our media kit now!