VIA KSBY San Luis Obispo | Santa Maria | Santa Barbara

Shark sightings off Pismo Beach getting mixed reactions from beachgoers
A warning for anyone heading to one of the Central Coast's most popular beaches after three shark sightings in just five days.
Still no word what type of shark it is, but it was first seen on Saturday. Then Tuesday afternoon, officers say a surfer spotted a 10 to 15-foot shark just south of the pier. It was in about eight feet of water, 90 feet offshore. Another surfer reported seeing a large dorsal fin in the water Wednesday afternoon.
Some people are being extra cautious, while surfers say it is not a big deal because shark attacks are so rare. However it does happen, in fact there have been four fatal shark attacks off the Pacific Coast in the past 10 years and two of them were on Central Coast.
Locals and tourists took full advantage of Pismo Beach Wednesday afternoon, despite seeing warning signs.
"I think it makes every surfer a little apprehensive," said Robert Dyer, an instructor at Sandbar Surf Company.
Dyer was teaching surf camp when a fellow surfer spotted a shark just south of the pier Wednesday morning.
"She was kind of freaked out, she had come in real quick and she said she'd seen about an 18-inch dorsal fin out there, so the sharks are definitely around," said Dyer.
Sharks are nothing new to our waters and while fatal attacks are rare, the Central Coast has seen its share of tragedies. Back in 2003, 50-year-old Debbie Franzman was attacked and killed by a Great White shark while swimming in Avila Beach. It was also a Great White that attacked and killed 19-year-old Lucas Ransom last October. The UCSB sophomore was boogie boarding at Surf Beach near Vandenberg Air Force Base.
For some the sightings are enough to put their swimming plans on hold.
"I would not swim with a shark in the water, I am so scared of them," said Kaya McConnell, who is visiting Pismo Beach from Clovis.
"I'd still come to the beach and watch the water I just wouldn't go in," said Julianna Zinn, who lives in Nipomo.
For the full story and video go here:
http://www.ksby.com/news/shark-sightings-off-pismo-beach-getting-mixed-reactions-from-beachgoers/#!prettyPhoto/0/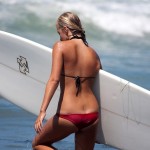 Become A Sponsor!
If you have a product or service that is a good fit for our surf community, we have opportunities for you to sponsor this blog!
Download our media kit now!