VIA – MEDIA BISTRO


Ocean City Officials Say Infamous 'Sea Foam' Wasn't Raw Sewage
By Merrill Knox on September 6, 2011 10:52 AM
Last week, WTTG's Tucker Barnes unintentionally became the star of one of Hurricane Irene's most famous moments, filing the above report from a boardwalk in Ocean City, MD. Barnes described the material he was standing in as a "sea foam," but as the video went viral, it was widely reported — everywhere from Fox News Channel to "The Late Show" with David Letterman — that what Barnes was standing in was actually raw sewage. Now city officials in the Maryland town are looking to set the record straight.
Reporter Gives Update Covered In Sea Foam: MyFoxNY.com
"Everyone who called it toxic human waste didn't know what they were talking about," Donna Abbott, the city's communication manager, told The Washington Post. "No one called us to verify a thing. There's no sewage in our water. We'd never allow anyone in our waters if there was a public-health threat."
Ocean City's storm preparations included shutting down its wastewater treatment plant on Saturday to prevent spilling or leakage, according to the Post — and even if the plant had remained active during the storm, Ocean City does not dump raw sewage into the water. Far more likely is that the "sea foam" is "dissolved organic material" created by high surf and winds.
For the original article go here:
http://www.mediabistro.com/tvspy/ocean-city-officials-say-infamous-sea-foam-wasnt-raw-sewage_b20659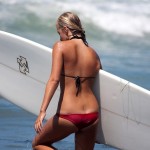 Become A Sponsor!
If you have a product or service that is a good fit for our surf community, we have opportunities for you to sponsor this blog!
Download our media kit now!