VIA – SUMMIT COUNTY VOICE
Hurricane Katia veers north; 2 other tropical systems loom


The GOES satellite image from NOAA shows Katia starting to veer north, and Tropical Depression 14 to the south and east, already showing signs of tropical development with wispy outflow clouds visible around the core of thunderstorms. The Gulf of Mexico disturbance is visible as a cluster of thunderstorms over the Yucatan Peninsula.
Posted on September 7, 2011 by Bob Berwyn
By Summit Voice
SUMMIT COUNTY — After spiking briefly to Category 4 status, Hurricane Katia is now a moderate Category 2 storm, with sustained winds of about 105 mph. Katia is expected to turn sharply to the north and then northeast in the next 24 to 36 hours without making landfall — but the storm will be felt in coastal areas with large swells causing potentially life-threatening surf and rip currents.
According to the National Hurricane Center, the storm will be steered by a strong mid-latitude flow between a high pressure system over the Atlantic and a stationary low over the Ohio Valley. It will pass between the East Coast and Bermuda, where a tropical storm watch is in effect, with tropical storm conditions possible in the next couple of days, including a one to two inches of rainfall.


Hurricane forecasters are also watching Tropical Depression 14, still about 1,500 miles away from the Lesser Antilles. This latest tropical depression is expected to become Tropical Storm Maria sometime Wednesday, and may take a more southerly track that will bring it closer to the islands of the eastern Caribbean.
The forecast is for the storm to strengthen gradually, potentially reaching hurricane strength, with 75 mph winds, sometime this coming weekend as it approaches the Windward Islands Sunday. The projected track then takes it toward Puerto Rico, with an uncertain track beyond that.


Yet another tropical system is brewing over the southern Gulf of Mexico…
For the entire hurricane, tropical storm and surf report go here:
http://summitcountyvoice.com/2011/09/07/hurricane-katia-veers-north-2-other-tropical-systems-loom/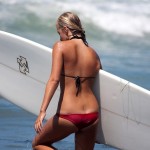 Become A Sponsor!
If you have a product or service that is a good fit for our surf community, we have opportunities for you to sponsor this blog!
Download our media kit now!