VIA – PRACTICAL FISH KEEPING
Video of man surfing on dead shark causes outcry
Copyright © Facebook
Two men filmed a friend surfing on the carcass of a dead Thresher shark that was being towed behind their boat, and then posted it on Facebook.
The video was taken by Mark Collins in the Western Bay of Plenty, New Zealand, and showed his friend, Eddie Bithell surfing on the body of the shark, which had been tied to a boat belonging to Zane Wright by its tail.
The footage was then posted onto Mr Collins' Facebook page last week, without Mr Bithell's permission, where it caused outrage.
The men said they had been out sword-fishing when they hooked the 289kg shark in its tail by accident.
Mr Collins said: "We didn't know it was a shark at the time, it was only when we pulled it up and it was already dead by then."
He explained that they took the shark's body to shore, where it was left overnight. The following day they weighed it and decided to dispose of the carcass back out at sea.
By then it had been dead for around 30 hours.
Mr Collins said that it was while taking the body back out to sea that they decided to surf on it, and that was when the video was made.
He said he regretted shooting the video and putting it online without his friend's permission.
The video has since been deleted.
The Ministry for Primary Studies (MPI) investigated..
for the full article go here:

http://www.practicalfishkeeping.co.uk/content.php?sid=5018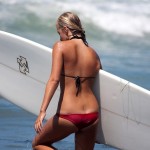 Become A Sponsor!
If you have a product or service that is a good fit for our surf community, we have opportunities for you to sponsor this blog!
Download our media kit now!