VIA – SMART PLANET
Patagonia introduces warm water wetsuits made from recycled polyester
By Beth Carter | May 2, 2012, 6:00 AM PDT
For most surfers, wetsuit technology exists around one, unifying concept: protection from frigid waters.The insulated materials allow the surfer to brave the cold weather (or just cold water), because not every beach is in Tahiti.
Patagonia, home to many an innovative, performance-based fabric, has already mastered the cold-defying wetsuit by lining a traditional wetsuit with ultra-light, quick-drying wool.
This technology is pretty amazing, but Patagonia's home is in southern California. What about the surfers there?
The apparel company recently released what they are calling the R1 warm water wetsuit. They built off of the extensive research and development that went into the wetsuit made for arctic temperatures, applying their knowledge to warmer water, trading the merino wool for a specially-designed recycled polyester blend. This makes the R1 a bit thinner and allows the wearer to move more freely.
Bamboo was Patagonia's first choice for the new suit's fiber, but nixed the idea after research showed the production process to be excessively pollutant, with almost half of the solvents used ending up as environmental waste. This led them to the recycled polyester, which is a cleaner fabric that takes less energy to produce, but before this had not been used in apparel.
The R1's exterior is composed completely of this recycled polyester and 50 percent of the interior, the other half of which is part recycled polyester and part normal polyester and spandex blend, for elasticity.
This recycled polyester makes up 100% of the R1's exterior while the grid-lined interior is made up of 50% recycled polyester mixed with virgin polyester and spandex…
For the full article go here:
http://www.youtube.com/watch?v=k8j7C7BtpJ4&feature=player_embedded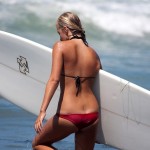 Become A Sponsor!
If you have a product or service that is a good fit for our surf community, we have opportunities for you to sponsor this blog!
Download our media kit now!