VIA – WPTV
Super stoked surfer is given a second chance on TOSH.0
Posted: 10/01/2011
Last Updated: 3 hours and 8 minutes ago
By: James Wieland
The infamous super stoked surfer that appeared on a local news station in California has been given a "web Redemption" on the Comedy Central program TOSH.0.
The video of the surfer (Mikah) went viral on youtube with millions of hits. Mikah was surfing Newport beach and from his stoke, had the ride of his life before breaking his board.
If you're a fan of Daniel Tosh and his show, you'll laugh hysterically at this bit. Tosh gives Mikah the change to redeem himself and speak like a normal person about his super stoke.
Daniel Tosh is from Titusville, and has surfed central Florida's breaks growing up. Look for some guest cameo's from CJ Hobgood and DC Surfboards representing the sunshine state!
In case you missed it, you can watch it below.
****WARNING: CONTAINS ADULT LANGUAGE AND MATERIAL*****
Original video interview:
Original article go here:
http://www.wptv.com/dpp/sports/recreation_sports/surfing_blog/super-stoked-surfer-is-given-a-second-chance-on-tosh.0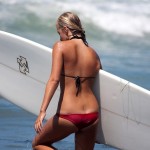 Become A Sponsor!
If you have a product or service that is a good fit for our surf community, we have opportunities for you to sponsor this blog!
Download our media kit now!