VIA – KVUE
Surfer attacked by shark in popular Oregon spot
by Teresa Blackman, kgw.com Staff
kvue.com
Posted on December 6, 2011 at 4:40 PM
SEASIDE, Ore. — A woman was attacked by a shark near Seaside Tuesday morning but managed to make it to shore with the help of other surfers.


Several other surfers in the area said they saw a dorsal fin, heard a splash and then realized a female surfer was hurt around 9 a.m. The story was first reported in the Seaside Signal.
"There was a big splash, I saw that. She has some injuries to her lower leg, a couple of puncture marks. Other than that, we wrapped her up and took her to the ambulance," said surfer Johnny Rogers.
Rogers and other surfers helped the woman to shore but her injuries did not appear to be life-threatening, they said.
The woman's surfboard also had puncture marks from the attack.
She was transported by ambulance to Seaside Providence Hospital. No further details on her condition have been released at this time.
The attack happened in the Seaside Cove, a popular surfing spot along the Oregon Coast.
Shark attacks are uncommon in Oregon but this was not the first this year.
Just last month…
For the full story go here:
http://www.kvue.com/news/Surfer-attacked-by-shark-in-popular-Oregon-spot-135129068.html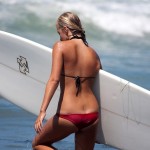 Become A Sponsor!
If you have a product or service that is a good fit for our surf community, we have opportunities for you to sponsor this blog!
Download our media kit now!