VIA – SCARBOROUGH EVENING NEWS

Warning to surfers after search for missing man
Wednesday 7 December 2011


Surfer's take advantage of the early moring waves in Scarborough's South Bay, as fog hangs over Cayton Bay cliffs, behind
Published on Wednesday 7 December 2011 13:08
THE COASTGUARD issued a warning yesterday after a surfer went missing in darkness off Cayton Bay.
A rescue helicopter from RAF Leconfield joined the Coastguard in the search for the surfer, who was reported missing on Monday.
The surfer managed to get ashore on his own and was found safe and well just as the helicopter and Coastguard, which had rushed to the scene, arrived.
The Scarborough lifeboat had also been notified by pager.
A spokesperson for the Humber Coastguard, which covers the Scarborough area, said that surfers should be aware of the dangers of surfing in hours of darkness.
He added: "We would strongly advise that surfers ensure that somebody knows their location and estimated time of return.
"This particularly applies when surfing alone or in darkness."
The Coastguard received the emergency…
For the full article go here:
http://www.scarborougheveningnews.co.uk/news/local/warning_to_surfers_after_search_for_missing_man_1_4038853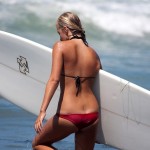 Become A Sponsor!
If you have a product or service that is a good fit for our surf community, we have opportunities for you to sponsor this blog!
Download our media kit now!