VIA MAUI NOW
VIDEO: Surfers Discuss Ho'okipa & Jaws Surf Etiquette
February 12th, 2012
By Madeline Ziecker
On a beautiful day with perfect conditions, Maui's north shore waters become a stew of surfers from all over the world, trying to catch the same waves.
Naturally, this can cause conflict amongst surfers when deciding who gets to ride next.
Maui surfers  Albee Layer and Billy* shared their opinions with Maui Now on how surf politics work on the north shore, where the waves are as big as some surfers' egos.
HO'OKIPA 
Being one of the prime surf spots in the world, Ho'okipa gets a flux of all types of surfers every day.
Some are visiting, some catch a good wave and decide to live here, and others have grown up here, knowing Ho'okipa as their beloved home-break.
Two surfers share a wave at Ho'okipa. Photo by Madeline Ziecker
The general rule of surfer etiquette is simple, at Ho'okipa and beyond: whoever can get to the height of the wave first gets the wave.
When conditions are at their best at Ho'okipa, this basic rule is disregarded as surfers get into turf wars, fighting for who has the right to the most waves.
Surf traffic on a busy day at Ho'okipa. Photo by Madeline Ziecker.
"It's about pride and territory," said Billy. "Some people are very aggressive in the water and some people are very mellow and forgiving."
"If a guy has been surfing Ho'okipa since he was five and a lot of immigrants come to the island during his lifetime, he may feel invaded at his home spot. It could push him to do something that may look a little nasty, but I respect that. He can burn me. I don't want to look for a fight."
"If it's a great day with the best conditions at a popular surf spot, you can bet that the locals will be especially territorial and they might not let you drop in."
Rules are not always broken intentionally, Layer mentioned:
"In smaller  waves you don't have to know what you're doing to go out. Then there are a lot more instances where people get hurt, run-over, or into fights."
JAWS…
For the full story go here:
http://mauinow.com/2012/02/12/surfers-discuss-jaws-hookipa-water-politics/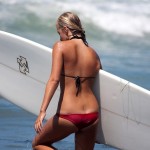 Become A Sponsor!
If you have a product or service that is a good fit for our surf community, we have opportunities for you to sponsor this blog!
Download our media kit now!