Awesome…
VIA – MYFOXPHILLY
Surfing Nuns Invade The Jersey Shore
Surfing Nuns Invade The Jersey Shore: MyFoxPHILLY.com
Surfing Nuns Invade The Jersey Shore
Updated: Friday, 05 Aug 2011, 9:36 AM EDT
Published : Friday, 05 Aug 2011, 9:35 AM EDT
Good Day was in Stone Harbor on Friday talking with two nuns who surf at the shore for a good cause.
The sisters are actually on a part of the shore called Nun's Beach because it is used by the nuns for relaxation and mediation when other folks aren't surfing.
A convent is located right behind the beach, for teachers and sisters, on retreat.
But the sisters have been known to hop on a board and hang 10 on occasion.
The sisters say they wear modest bathing suits while surfing and no bikinis.
For the full story go here:
http://www.myfoxphilly.com/dpp/good_day_philadelphia/surfing-nuns-invade-the-jersey-shore-080511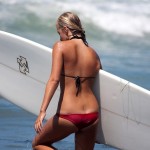 Become A Sponsor!
If you have a product or service that is a good fit for our surf community, we have opportunities for you to sponsor this blog!
Download our media kit now!