Words By – Chris Nomad
As many of you heard watching the live feed from the Quiksilver Pro NY today, Bobby Martinez was thrown out of the event just before his heat against Kelly Slater in Round #3.
Bobby has been the center of controversy recently with his public comments in regards to the caliber of surfing on tour, opinions about wave quality in some events and desire to retire from competitive surfing after this season.
Here is the video from the feed today, watch into the 5 minute mark to find the clip with Bobby's controversial interview:
No matter how things play out with Bobby and the ASP, he is a pleasure to watch in events and brings much needed character to competitive surfing, at least by myself, he will be missed.
Update: Bobby Martinez was disqualified for the rest of the year by the ASP
Check out the official ASP's response here:

http://surftweeters.com/asp-response-bobby-martinez-disqualified-from-asp-competition-in-new-york/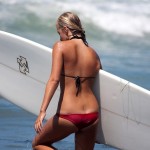 Become A Sponsor!
If you have a product or service that is a good fit for our surf community, we have opportunities for you to sponsor this blog!
Download our media kit now!