VIRAL VIDEO: Pro Surfer Girl Films 100+ Sharks Gorge on Whale Carcass

Posted 23 June 2012 By Chris Nomad
Apparently this video has received over 1.5 million views already. It's pretty ominous footage of the beauty and brutality of mother nature in it's most unbridled fury. Enjoy!
Sharks attack whale from Rachel Campbell on Vimeo.
"Sharks attack whale
by Rachel Campbell
About 100 sharks line 400m of shoreline to feed off a devoured whale. Not the most comforting when you surf the reefs that they own. Some were tiger sharks, others were reef sharks. Some as long as 4m remind us why we are afraid. Horrific yet intriguing."
"Hi everyone,
I am currently about 2 weeks into a 6 week surf trip, checking out northwest Australia with some crew from home (home is Stanwell Park, NSW). Yeah, this footage is from Warroora Station and was taken about a week ago. It was intriguing beyond words but pretty scary too when you're surfing reefs that these beasts own about a kilometre off-shore. I have written all about what I saw and experienced on my blog rachcampbell.tumblr.com. Hopefully that will give you a little insight into me and what was going on. I ride for billabong and you can check out my profile at billabonggirls.com.au/team-rider/surf/61/rachel-campbell.
@mick jan this song is "The Fear", by Ben Howard."
"Sorry forgot to say who is in the clip. Myself, my brother Tom and friends we are travelling with, Riley and Asha Killham."
Photos of Rachel Campell:
For her original post go here: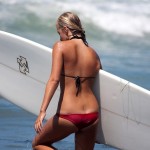 Become A Sponsor!
If you have a product or service that is a good fit for our surf community, we have opportunities for you to sponsor this blog!
Download our media kit now!