VIA – CNN
June 23rd, 2012
02:42 PM ET
Post by: CNN's Sari Zeidler
Viral vigilantism, Tony Hawk style
Tony Hawk posted images on Instagram of two theives who stole a skateboard from his car.
Viral vigilantism, Tony Hawk style
If you're going to steal a skateboard, don't steal it from Tony Hawk.
The pro skater called out a couple of criminals yesterday by posting images from his home's security camera on Instagram after it captured them stealing a skateboard from his car.
"To the a**holes that broke into my car & stole Calvin's skateboard: return it or your video goes 'viral' as in 'to the police,'" Hawk wrote on the photo sharing app.
According to Hawk, the stolen board, which belonged to his girlfriend's son, was a rare design from his company, Birdhouse.
"If they know anything about skateboards they'd know that they have something of value," Hawk said, adding that he didn't believe he was specifically targeted.
"I don't think the guys that stole it knew it was my house. I can tell by the way they approached the house that they were actually looking for anyone that might have left something in their driveway in their car," Hawk said.
Hawk opted to post the photo on Instagram rather than going to police to give the thieves a chance to return the skateboard and also to teach them a lesson.
"To be honest, I did put that up as kind of a joke and kind of a warning, as well. My hope is that it does resonate and these guys realize what they've done and return it in guilt."
Hawk said…
For the full article go here:
http://news.blogs.cnn.com/2012/06/23/viral-vigilantism-tony-hawk-style/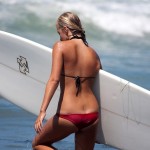 Become A Sponsor!
If you have a product or service that is a good fit for our surf community, we have opportunities for you to sponsor this blog!
Download our media kit now!