Thought this was a good article for any visitors coming up to HMB, although there are way more good eats in the area that should be on this list…
VIA – SF GATE
Johnson Pier, Pillar Point Harbor, Half Moon Bay
Stephanie Wright Hession
Johnson Pier, Pillar Point Harbor, Half Moon Bay: On a rainy Saturday afternoon in late March, visitors hurried to take advantage of a break in the weather. They sat outside restaurants, hunkered down around steaming bowls of clam chowder, took home fresh-caught Dungeness crabs, and walked on the shore admiring ocean vistas. Along the way, they paused at a memorial and visited a shop owned by a surfing legend.
1. Pillar Point Marina
1 Johnson Pier: Watch boats in the water from the promenade honoring Katherine F. Middleton. A civic-minded woman, she campaigned tirelessly for the building of a breakwater and creation of a harbor. The U.S. Army Corps of Engineers began constructing the breakwater in 1959, creating Pillar Point Harbor and safeguarding boats.
2. Commercial fisherman memorial
Near the entrance to Johnson Pier: Calla lilies, Dutch irises and a basket of white roses adorn a stone memorial honoring commercial fishermen lost at sea. Its plaque features a poem by Bud Smith and bears the names of 17 people who perished between 1934 and 2007.
3. Johnson Pier
Pillar Point Harbor: Join the pedestrians strolling Johnson Pier, many in search of fresh seafood. Check the harbor fish sales information board outside the harbor master's office, just before the entrance to the pier, then head to the docks to buy fresh crab and fish directly from commercial fishermen on their boats. (650) 726-8724.
4. Princeton Seafood Co.
9 Johnson Pier: Satisfy your craving for hearty seafood at this casual spot. Its New England-style clam chowder brings people in from miles around, so be sure to try a piping hot cup or bowl, along with local fish or crunchy fish and chips. (650) 726-2722. www.princetonseafood.com.
5. Mavericks Surf Shop
25 Johnson Pier: Big wave surfer Jeff Clark began surfing the Mavericks alone in 1975. He later founded the Mavericks Surf Contest and is renowned for his surfboard shaping. At his shop, learn about the Mavericks' history, see his line of surfboards and rent boards and wetsuits. (650) 560-8088. www.jeffclarkmavericks.com…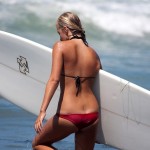 Become A Sponsor!
If you have a product or service that is a good fit for our surf community, we have opportunities for you to sponsor this blog!
Download our media kit now!